Who Wants a Cleaner, Greener School? Please Raise Your Hand.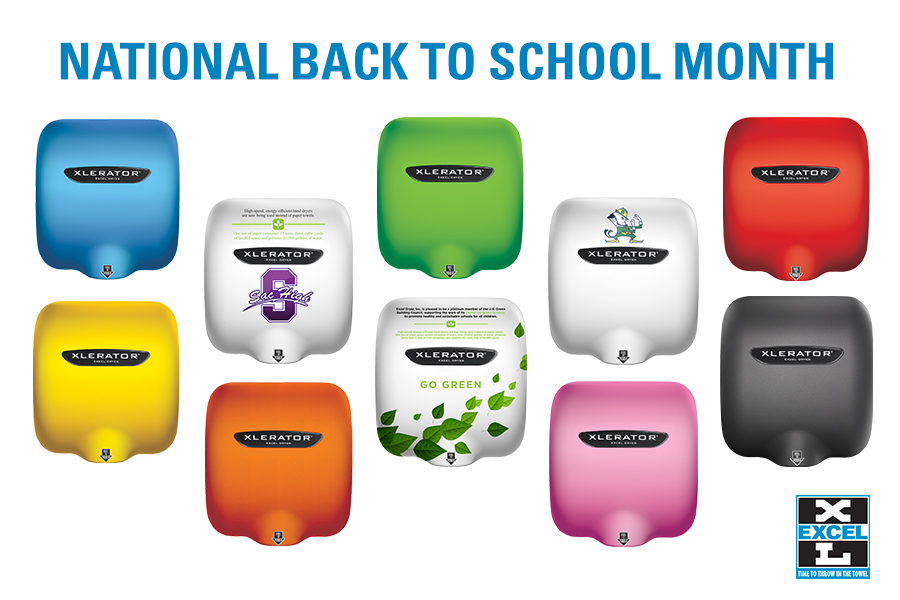 Hand Dryers in Schools
Some feel it as soon as the summer's first barbecue ends. For others, that mix of emotions (including, for most parents, a bit of a guilty lift) start right about now—as the calendar flips to National Back to School Month!
August is here, and Excel Dryer is ready for class. We're quite the fans of education, and we're pleased to say that the feeling's mutual; schools are among the facilities that most benefit from our original, patented, high-speed, energy-efficient XLERATOR® Hand Dryer. In honor of this important relationship and exciting month, Excel Dryer would like to share a few of our favorite school subjects.  
Advanced Math
There's little we don't do by the numbers. Hard data backs all of our product advantages, which we share in a customized cost-savings analysis for each facility we serve. The report for Sacramento Charter High School (known locally as Sac High) in Sacramento, California, estimated XLERATOR would reduce the school's carbon footprint by 80.73 percent, for which the United States Environmental Protection Agency (EPA) estimates an equivalent annual savings of 104 trees, 18.48 cubic meters in landfill space, over 123,000 gallons of water, and emissions from over 116 gallons of gasoline. Throwing in the towel also could save Sac High almost $17,000 annually—a 97.96 percent savings versus paper towels—and eliminate 5,587 pounds of paper towel waste a year. When it comes to math, you can see why we prefer the advanced course.
Economics
Budgetary issues top nearly every school's list of annual and ongoing concerns. As the numbers above make clear, XLERATOR's cost-cutting power alone makes it a school's ideal hand-drying solution. Where does that power come from? Well, in addition to lowering energy bills, XLERATOR eliminates the labor, maintenance and waste that come with paper towel use, as well as the repetitive cost of the towels themselves—wiping out a collectively hefty expense for restrooms notorious for messes. "A high school's a high school," said Lawrence Berte, the now-retired principal of Longmeadow High School in Longmeadow, Massachusetts, who helped oversee the school's 2012 reconstruction. "When you pull the papers out, sometimes 10 come, instead of one, and they fall on the floor. Or, someone might think it'd be a pretty good joke to maybe clog up the sink and let it overflow, or throw them in the toilet. We've had those kinds of things eliminated going the XLERATOR route." (Watch Longmeadow High's case study video to learn more about the school's smart and sustainable choice.)
Environmental Science
Anyone who knows Excel Dryer knows that we heart Earth; our commitment to sustainable building is at the core of all we do. Channeling our active affinity for the planet and our soft spot for schools, Excel Dryer was an original seed sponsor of the Green Apple program, an initiative of the Center for Green Schools at the U.S. Green Building Council (USGBC) to transform schools into sustainable places for children to learn and play. In seeing XLERATOR Hand Dryers instead of paper-y messes, kids the world over are receiving a subtle yet important message. As Joe Tomaselli, former Aramark director of operations for Niles Township School District 219 in Skokie, Illinois, noted: "We were able to set an example for students about the importance of reducing waste and making smart decisions about energy conservation."
Excel Dryer recently forged a partnership with Boston Latin School (BLS), America's oldest public educational institution—yet a notably forward-thinking one. Following a curriculum we developed in collaboration with the Center for Green Schools, sustainability consulting firm Ecoimpact and BLS, members of its student-founded Youth Climate Action Network are closely examining the high-efficiency hand dryer's role in greening and cost-saving initiatives for schools. In addition to real-world sustainability lessons, the innovative project offers a new kind of hands-on experience in field research, energy auditing, project management and more.
With the success of the Boston Latin partnership, Excel Dryer is inviting schools across the nation to feel the power, too: The first 50 schools to complete our new course curriculum will receive 2 free* EPD Certified XLERATOR Hand Dryers in the 2018–9 school year.    
In other environmental news, the dryers of our high-efficiency product line—the XLERATOR®, XLERATOReco® and ThinAir® Hand Dryers—last year became the industry's first to receive Environmental Product Declaration (EPD) certification from UL Environment. This achievement not only demonstrates Excel Dryer's commitment to sustainability but has ushered in a new era of transparency for hand dryer manufacturers. (Talk about extra credit!)
Health
Give them a school of any size or layout, and germs seem to find their way around it. Determined to create a cleaner and greener environment for its nearly 40,000 students, the University Student Union at California State University, Northridge, equipped the restrooms of its multiple buildings with a variety of hands-free, eco-friendly fixtures. Among them? You guessed it. "I was very impressed with these units," Gary Homesley, assistant director of facilities and maintenance for the student union, said of XLERATOR Hand Dryers. "They are the best dryers I've ever seen, and one of the most energy-efficient units on the market. I decided to get rid of all of our paper towels altogether." Homesley cited XLERATOR's ability to dry hands three times faster than conventional units as another important factor in the decision.
Further, as an optional feature of our high-efficiency hand dryers, Excel Dryer offers a HEPA filtration system that creates a clean air flow by removing 99.97 percent of bacteria at 0.3 microns from the air stream. (In contrast, some unused, recycled paper towels actually may harbor bacteria; a pilot study by Laval University, available through our Hygiene page, explains how.)
Geography
Though proudly Made In USA Certified®, our products ultimately find homes—including educational institutions—all around the world. A global search for the perfect sustainable hand-drying solution led the Uşak Kanyon College school system in western Turkey to XLERATOR, which met the stringent specifications of the republic's National Energy Efficiency Plan and provided significant cost savings. As part of a campus-wide greening initiative, the University of Reading installed XLERATOReco® Hand Dryers after an independent study revealed 55% less energy use than UK-produced blade-style dryers. That's a cost savings of £1,452 (or $2,155 for those of us on this side of the pond).
Finally, we'd like to give an honorary mention to American History. We can't say we don't enjoy the subject; after all, we've been building the finest American made hand dryers for the last 50 years. But as we continue to revolutionize the industry with innovative, sustainable technology, one thing's for certain: we're never going back to our old school.
*Offer limited to U.S. schools currently using paper towels. Excel Dryer is not responsible for installation costs associated with these donated products.