Hand Dryer Suppliers
See why the XLERATOR® Hand Dryer is the #1 selling in the world.
The #1 Selling And Specified
Hand Dryer
With more than 4,000 distributors globally, Excel Dryer is the number-one selling and specified hand dryer. That means your customers want them.
You can increase sales and build a stronger relationship with your clients by exceeding their needs and helping them save time, money and the environment with our commercial hand dryers.
With Excel Dryer, you can provide your customers with a best-in-class product line and work with a family-run company with more than 50 years of hand dryer manufacturing history right here in the United States.
Excel Dryer is known for having the best customer service in the industry. All service requests are handled promptly and with a friendly voice (not a machine) answering the phone. There are no overseas shipping or service delays and a Key Account Manager is assigned to oversee and support your sales team.
We offer sales associate training, support materials, targeted case studies demo/trial units to help your team in the field, and installation services which are available nationwide. You make the sale. We handle the rest.
Excel Dryer's expanded hand dryer product line offers a 95% cost savings over paper towels, completely eliminating their labor, maintenance, and waste while promoting hand hygiene and improving the guest experience.
Our high-speed, energy-efficient hand dryers are Made in USA Certified® and come fully equipped with adjustable speed, sound and heat controls, multi-voltage options and an externally-visible service LED.
With new enhanced features and the most options and accessories in the industry, including a HEPA filtration system and custom covers, you can provide your customers with the tools to design the best hand drying solution for any restroom environment.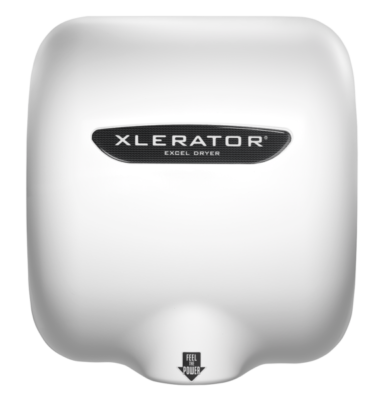 Distributor FAQs
Can I get price and availability? Yes, you can. The overall price and availability may depend on the distributor, model, quantity, competition, etc. Please contact us to request a representative to contact you to receive a quote.
What can my customer do to make the XLERATOR hand dryer quieter?   All XLERATOR models operate at 65 to 75 decibels with a .8" standard nozzle (black) but can jump to over 90 decibels if hands are perpendicular to the air stream and held extremely close to the air outlet. Our free 1.1" noise reduction nozzle (gray) lowers the decibel level of an XLERATOR 9 dB by reducing air deflection noise but increases the dry time by approximately 3 seconds. In addition, adjustable speed and sound control is included in all XLERATOR models. The control allows owners to adjust the speed and sound of the unit to their liking.
Are your hand dryers hygienic?   Yes, hand dryers are hygienic. Excel Dryer is committed to manufacturing hygienic, sustainable, and cost-effective hand dryers. Read more about hand dryer hygiene here.
What can my customer do about the water getting on the wall and floor?   The majority of water evaporates while people dry their hands with an XLERATOR/XLERATOReco/ThinAir hand dryer; however, some water droplets can get on the wall and floor. The ADA-compliant recess kit (40502) for XLERATOR/XLERATOReco hand dryers will help to keep water off the wall and floor. The black (89B), white (89W) and brushed stainless steel (89S) wall guards fit securely below an XLERATOR/XLERATOReco/ThinAir hand dryer to protect walls. If water on the floor beneath a high-speed, energy-efficient hand dryer ever becomes an issue for any of our customers, we encourage them to put an anti-microbial floor mat below the hand dryer.
How can I help my customers determine the ROI of switching from paper towels to one of your hand dryers?   Our Cost and Environmental Savings Calculator gives people an opportunity to calculate how much money they can save, how quickly they can achieve their payback and how much they can reduce their environmental impact by switching from paper towels to the XLERATOR/XLERATOReco/ThinAir. Calculate the cost of hand dryers and compare it to paper towels cost.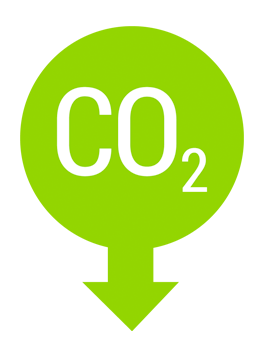 See how you can achieve 95% cost savings and 70% carbon footprint reduction by getting rid of paper towels and switching to our high-speed, energy-efficient hand dryers.
Select Your Usage for Sample Cost Savings
| | | |
| --- | --- | --- |
| Low | 50 | Bistro, Small Business Office |
| Medium | 200 | Restaurant, Chain Store |
| High | 500 | School, Theatre, Conference Center |
| Heavy Duty | 2500 | Transportation Center, Stadium |