Model XL-BW White Thermoset (BMC) Cover
Model XL-W White Epoxy Painted Cover
Model XL-GR Graphite Textured Painted Cover
Model XL-C Chrome Plated Cover
Model XL-SB Brushed Stainless Steel Cover
Model XL-SP Custom Special Paint Cover
Model XL-SI Custom Special Image Cover
XLERATOR = Hand Hygiene
NEW ENHANCED STANDARD FEATURES
Adjustable Speed
And Sound Control

Multi-Voltage

Adjustable Heat
Settings

Externally Visible
Service LED

New 50% Longer Life
95% Cost Savings vs. Paper Towels
7-year Limited Warranty
Helps Qualify for the Most LEED® v4 Credits
Features and Benefits
Performance
8 Second Dry Time
Adjustable Speed and Sound Control
Adjustable Heat Control - High, Medium, Low and Off
Externally Visible Service LED
Over a Decade of Proven Performance
Less Than 1% Failure Rate
Savings
80% Less Energy Than Conventional Hand Dryers
95% Cost Savings Vs. Paper Towels
Saves Time, Money and the Environment 
Sustainability
No More Maintenance and Upkeep of Paper Towel Waste
Building Green Approved and Helps Qualify for several LEED® credits
Helps facilities around the world reduce their carbon footprint
All XLERATOR® Hand Dryer Models Are EPD Certified
XL-BW and XL-SB Models Are HPD Certified
Hygiene
A Hygienic Hand Drying Solution
Most options and accessories in the industry – on the cutting edge of restroom hygiene
HEPA Filtration System proven to remove 99.97% of potentially present bacteria at 0.3 microns from the air
Antimicrobial Wall Guards designed to protect walls from water and inhibit the growth of bacteria
Specifications
Activation: Automatic Sensor Operated
Mounting: Surface Mounted
Dimensions: 11 3/4" W x 12 11/16" H x 6 11/16" D
Weight: 15-17 lbs.
ADA-Compliant: Available with
Recess Kit
Warranty: 7-Year Limited
Cover Finish: White Epoxy, Textured Graphite, Special Paint, Special Image, Chrome Plated, Brushed Stainless Steel
Electric Hand Dryer Specifications: 110-120V – 11.3-12.2 Amps, 1240-1450 Watts, 50/60 Hz, 208-277V – 5.6 -6.2 Amps, 1160-1490 Watts, 50/60 Hz, 230V – 6.1 Amps, 1410 Watts, 50 Hz
CAD/BIM Images
To access CAD/BIM images for our entire line
of hand dryer and accessories please visit our
The Most Options. The Best Accessories.
With enhanced features and the most options and accessories in the industry, you can create the best hand drying solution for any restroom environment.
Options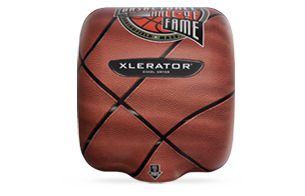 Custom Covers
HEPA Filtration System
1.1″ Noise Reduction Nozzle (1.1N)
Accessories
XChanger® Combo Kit
Antimicrobial Wall Guards
ADA-Compliant Recess Kit
Go Green, Save Green
See how you can achieve 95% cost savings and 70% carbon footprint reduction by getting rid of paper towels and switching to our high-speed, energy-efficient hand dryers.
Select Your Usage for Sample Cost Savings
| | | |
| --- | --- | --- |
| Low | 50 | Bistro, Small Business Office |
| Medium | 200 | Restaurant, Chain Store |
| High | 500 | School, Theatre, Conference Center |
| Heavy Duty | 2500 | Transportation Center, Stadium |