Part One: The Importance of Buying Made in the USA Certified Products
There is no better time than during the Olympics, when we come together as a nation, to acknowledge the trade and recognize Made in The USA Certified® products such as XLERATOR® Hand Dryers.
It is important to understand how a product, such as the XLERATOR Hand Dryer, becomes a Made in USA Certified product and why buying American made goods is so important.
What is Made in USA Certified®?
The Made in the USA Certified seal is a country of origin label which indicates the product(s), such as XLERATOR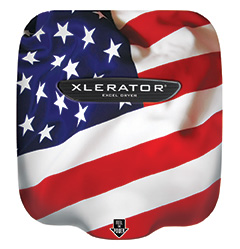 Hand Dryers are Made in the USA. For a product to become Made in USA Certified it must meet specific criteria and prove to the Federal Trade Commission (FTC) exactly where the labor, parts and assembly take place. Excel Dryer manufactures all of its XLERATOR Hand Dryers in East Longmeadow, Mass., employs around 50 people and is the only hand dryer manufacturer to achieve made in the USA Certification for its line of products.
Why is Buying American Made Products Important?
Let's talk job creation and feeding the economy. Massachusetts alone accounts for more than 7,000 manufacturers with more than 250,000 jobs. Innovative manufacturers, such as Excel Dryer, are making groundbreaking products for global consumption. For example, the XLERATOReco® Hand Dryer uses 'no heat' technology to dry hands fast, making it the most energy-efficient and environmentally friendly hand dryer on the planet. The XLERATOReco is so efficient that it is highly used in Europe where saving energy is a top priority.
The ThinAir® Hand Dryer is ADA compliant and dries hands fast, using only 950 watts or less. ThinAir, like all high-efficiency hand dryer models from Excel Dryer, now comes with new enhanced standard features, including adjustable sound, speed and heat controls, multi-voltage options, and an externally visible service LED.