Electrostatic HEPA Filter vs. Traditional HEPA Filters
Given our well-known commitment to keeping hygiene (and, well, also a hand) in hand hygiene, our enthusiasm about HEPA filtration is no surprise. Adding a HEPA filter takes hygienic hand drying to the next level, which is why we've made it available within all our products—and made it even better. 
Following our mantra of continuous improvement and leading through innovation, we have upgraded our HEPA filtration system to use electrostatic HEPA media. Here, we talk about just what the attraction was (stick around for more puns). 
The Electrostatic Difference: Electrostatic Filter Media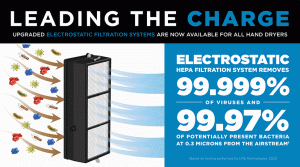 What distinguishes the new system from the previous one is the filter media—that is, the key material of which each filter is made—and the mechanisms through which they purify the air. Our traditional HEPA filters were made of borosilicate glass microfiber and worked through diffusion and interception; simply put, the entanglement of fine strands would slow down and eventually trap impurities. Third-party testing by LMS Technologies showed these filters to remove 99.999% of viruses and 99.97% of potentially present bacteria at 0.3 microns from the airstream, proving their efficacy to HEPA standards. This study definitively answered the question, "Are hand dryers hygienic?"
Every bit as clinically potent in their germ removal, our new filters do it differently. They contain what we call "supercharged media": electrostatically charged polypropylene microfiber. As both the long name and the arguably catchier one imply, this filter media actively attracts particles as they move through the dryer. Viruses, bacteria, and other tiny offenders quickly find themselves stuck to the internal filter, never to see an airstream—or hands—again.   
Even as it works, the system maintains low-pressure drop, meaning it requires less energy to push air through the media than other types of filtration might require. This superior efficiency has made electrostatic HEPA the standard for HEPA-spec'd hand dryers and a game changer for our customers. 
Into ThinAir: Electrostatically Charged Filter
Allowing for greater airflow with no loss of air-purifying power, electrostatic HEPA filtration was a natural upgrade for our products—as the optional HEPA feature for our XLERATOR and XLERATOReco hand dryers, and as the HEPA filtration that comes standard with XLERATORsync. (And, it's still the only HEPA filtration system on the market with a metal mesh washable pre-filter, providing reliable service and extending filter life.) But our most supercharged excitement, if you will, has been around what the new filter has meant for our ThinAir hand dryers. 
Protruding less than four inches from the wall per ADA-accessible design standards while offering the clean, green, cost-saving benefits of XLERATOR, ThinAir has always represented everything a facility could want in a surface-mounted, ADA-compliant hand dryer—and now we can confidently add the "and more." Thanks to the have-it-all nature of electrostatic filter media, ThinAir is now available with the added level of hygienic protection only HEPA can provide. 
As with all models of our high-speed, energy-efficient hand dryers, ThinAir also comes with adjustable speed and sound controls and offers the most options and accessories in the industry, including custom covers and antimicrobial wall guards. Further, our supercharged filter is still the only HEPA filtration system on the market with a metal mesh washable pre-filter. The corrosion-resistant stainless steel mesh screen traps large particles and protects the HEPA filter media, providing reliable service and extending filter life.
Ready to Lead the Charge? (Electrostatic Charge, that is!) 
If you're building, renovating, or simply considering a sustainable change, the availability of electrostatic filtration is one more reason to explore Excel Dryer's incomparable line of hygienic hand dryers. Because when it comes to filtration solutions, this we know: a sticky situation is a good one. Contact us to get started today.