Leading the Charge: Electrostatic HEPA Filtration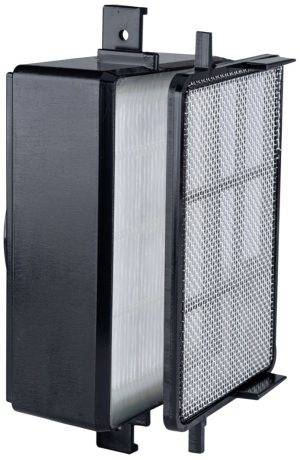 At Excel Dryer, we are constantly innovating to ensure our products are the most cost-effective, hygienic, and sustainable ways to dry hands. That's why we are pleased to announce our latest enhancement. We have upgraded to electrostatic HEPA filtration, a new optional feature for our XLERATOR® hand dryer models, including our newly expanded, surface-mounted, ADA-compliant ThinAir® Hand Dryer product line.
The Electrostatic Upgrade
The electrostatic HEPA filter has now become the standard for models in which the HEPA option is included. Provided by Columbus Industries, a reputable U.S.-based company with more than 50 years of filter manufacturing experience, the system uses electrostatically charged media that allows for increased airflow and attracts particles—including bacteria and viruses—to the filter media, removing them from the air.
The system is proven to remove more than 99.999% of viruses and 99.97% of potentially present bacteria at 0.3 microns from the airstream, according to 2023 testing performed by LMS Technologies.
"We have always promoted the importance of proper hand hygiene, including thoroughly washing and drying hands, and we will continue to do so. The COVID-19 pandemic emphasized and reminded the world of the importance of clean and dry hands," said William Gagnon, executive vice president and COO at Excel Dryer. "We're excited to now offer this improved system to all our touchless hand drying solutions."
ADA Compliance and (Much) More
ThinAir is a high-efficiency, surface-mounted model that includes all XLERATOR standard enhanced features while also protruding less than four inches from the wall to adhere to ADA regulations for an ADA compliant bathroom. It helps provide an equal experience to every guest regardless of physical limitations, making it an ideal choice for a wide range of restroom facilities.
ThinAir dries hands in 14 seconds1 and helps facilities qualify for several LEED® Credits and WELL® Points. Additionally, the on/off heat control enables wattage reduction from 950 watts to as low as 300 watts when the heat function is turned off. The model also includes expanded cover options, including brushed stainless steel, custom paint colors, and custom design covers.
Now, with electrostatic HEPA filtration, this great product is better than ever; ThinAir provides the same surface-mounted ADA compliance with an advanced level of hygiene, efficiency, and customizable style.
Discover the Excel Dryer Difference
In addition to the electrostatic HEPA filtration system, don't forget about our products' other inherent benefits. By switching to ThinAir or any other touchless, high-speed hand-drying solution from Excel Dryer, facilities can quickly see massive cost savings on materials, labor, maintenance, and waste removal. Contact us today to learn more.
1Dry time and energy use testing performed by SGS International on standard ThinAir Hand Dryer to 0.25g or less of residual moisture, pursuant to the UL Environment Global Product Category Rules (PCR) for Hand Dryers.