3 Reasons Restaurants Should Switch to the XLERATOR® Hand Dryer
by

Excel Dryer

— 17 Aug, 2023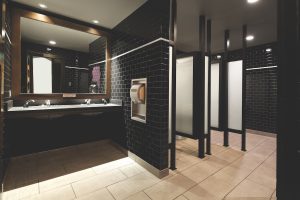 Many restaurant owners overlook one key area that can tremendously impact their businesses. While food, menu options, and service are at the top of most priority lists, restroom cleanliness and hygiene should be as well. 
In fact, in a recent MetrixLab survey measuring what is considered a dirty public restaurant in the United States, nearly 60% of consumers said a dirty restroom makes them think much less of the establishment. With this in mind, read on as we share three reasons restaurants should switch to the XLERATOR hand dryer. 
1. Bathroom Cleanliness Counts
Many say you can judge the cleanliness of a restaurant's kitchen by the cleanliness of its bathroom. But what constitutes a dirty restroom? According to the MetrixLab survey, it includes:
Paper towels/toilet paper on the floor: 84%
Overflowing trash/garbage cans: 82%
Sticky floor: 81%
Water on the floor: 78%
Switching from messy paper towels to the XLERATOR Hand Dryer keeps your restrooms cleaner because it eliminates paper towels on counters and floors and overflowing from trash cans. It also frees up your staff to spend more time focusing on your customers instead of refilling paper towel dispensers and emptying the trash.
2. Customer and Employee Hygiene Matters, More than Ever
Hand hygiene has always been an essential ingredient in the restaurant business, but this awareness has heightened since the COVID-19 pandemic. The last step in an effective hand washing protocol is fully drying hands because, as the Centers for Disease Control (CDC) emphasizes, wet hands allow for easier transfer of germs. 
Our no-touch hand dryers provide several defense measures against impurities. With its hands-under design, the XLERATOR eliminates touchpoints in the hand-drying process, which helps prevent potential cross-contamination between restroom surfaces via wet hands. In addition, its high-speed performance helps get users' hands completely dry in as little as 8 seconds.*
Beyond hand drying, Excel Dryer's electrostatic HEPA filtration system is proven to remove 99.999% of viruses from the airstream, something paper towels can't do. It is the only HEPA filtration system on the market with a metal mesh washable pre-filter for reliable service and extended filter life.
3. Sustainability Benefits Everyone
It's a beautiful thing when doing the right thing also comes with perks. An LCA Study conducted by Quantis, an international Life Cycle Assessment research firm, determined that when compared to traditional electric hand dryers and paper towels (virgin and 100% recycled content), the XLERATOR Hand Dryer reduces the Climate Changing Score (carbon footprint) of hand drying by 50% to 75%.
The combined environmental impact of producing paper towels and associated materials far exceeds the impact of XLERATOR use. Although the use of recycled paper fibers in the towels may reduce negative environmental effects, the XLERATOR maintains a significant margin of benefit in terms of eco-friendliness across its life cycle.
And now for an added financial perk: Not only can you reduce your carbon footprint by up to 70% by switching from paper towels to our high-speed, energy-efficient hand dryers, but you can also achieve up to 95% cost savings. Our interactive calculator can help you determine just how much your facility could save when using hand dryers vs. paper towels.
Ready to Switch? Call Us Today
We could go into great depth about the many ways our touchless hand dryers can enhance your business, but you don't have to take our word for it. Read about the benefits actual restaurants like Max Burger, Bean Restaurant Group, Arooga's Grille House & Sports Bar, and Buffalo Wild Wings saw after switching to XLERATOR.
Time to throw in the towel? See how we can help.
*Dry time and energy use testing performed by SGS International on standard XLERATOR Hand Dryer with 0.8" nozzle to 0.25g or less of residual moisture, pursuant to the UL Environment Global Product Category Rules (PCR) for Hand Dryers.