Putting Hygiene Front and Center: Introducing the New HEPA Nameplate
Promoting proper hand hygiene is an important step toward reducing the spread of germs and ensuring a sanitary environment. But oftentimes, it can be hard to determine whether the solutions you use to wash and dry your hands are contributing positively or negatively to the cleanliness of the spaces around you. At Excel Dryer, we want to cut out the confusion that some people may have with our innovative, touchless hand dryers by putting our commitment to hygiene front and center—literally. Effective May 2nd, all XLERATOR® and XLERATOReco® Hand Dryers with a HEPA filtration system installed at our factory will ship with a new HEPA nameplate on the front of the dryer. Read on to learn more about the hygiene benefits of our HEPA filtration system and our decision to install these new nameplates.
XLERATOR + HEPA = Hygienic Hand Drying
In testing conducted by LMS Technologies, Excel Dryer's HEPA filtration system has been proven to remove 99.999% of viruses and 99.97% of bacteria at 0.3 microns from the airstream. Our system is also the only HEPA filtration system on the market with a metal mesh washable pre-filter for reliable service and extended filter life.
The HEPA filtration system is available as an optional feature on our XLERATOR and XLERATOReco Hand Dryers and can also be retrofitted into existing units. On our XLERATORsync® Hand Dryer—an exclusive component of the D|13 Sink System by D|13 Group—the HEPA filtration system comes as a standard feature.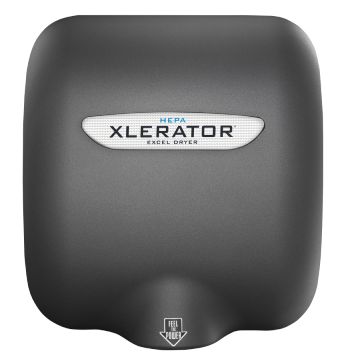 The New HEPA Nameplate
To differentiate our HEPA-equipped XLERATOR Hand Dryers from standard models, we decided to upgrade the nameplate on the front of these dryers with "HEPA" above the model's name. This way, people who use our hand dryers will know at a glance that there is added protection against harmful viruses and bacteria in the airstream, giving them added confidence that your facility is taking every step to promote sanitation.
That means every new XLERATOR or XLERATOReco Hand Dryer that has HEPA filtration installed will ship to its destination with a new HEPA nameplate. Our blue HEPA signs that explain some of the filtration system's hygienic benefits are still available if facilities want to communicate this information to guests by placing them above the installed dryers. Product sheets for these two dryers have been updated to reflect both the HEPA and the standard models. 
Reach Out to Learn More
Are you interested in installing an XLERATOR Hand Dryer with a HEPA filtration system in your facility? We'd be happy to connect with you. Please reach out to us online to get started.