Commercial Restroom Customization Is Here
Complete Your Branding from Boardroom to Bathroom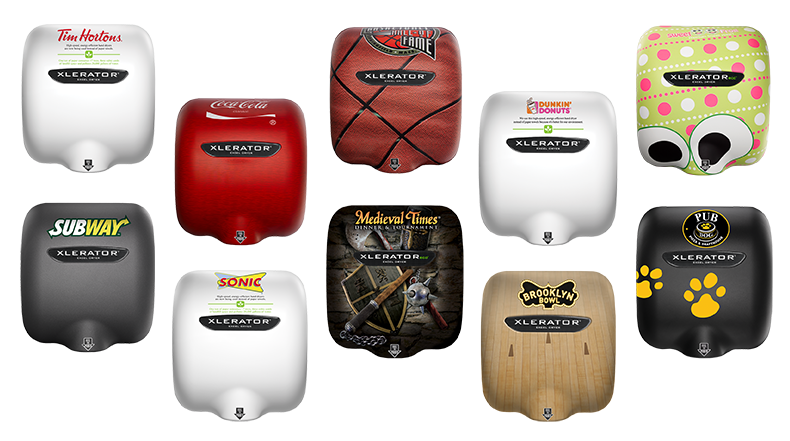 As a business owner, you take great pains to build a brand that cohesively and consistently communicates your company's personality, unique value proposition, and capabilities. Product packaging, advertising, and marketing get the full branding treatment, so why not your facility? Your corporate space is as much a physical representation of your brand as your promotional displays are, and it should communicate your brand's look and feel just as effectively—from the lobby to the boardroom to your business's restrooms. Excel Dryer has a range of restroom customization options available to help your facility align with brand identity; read on to learn all about them.
"People see them, and they look almost like cool sculptural pieces, but you can still tell they are hand dryers—just the coolest hand dryers you've ever seen. Plus, the dryers' 100% ADA-compliant recess kits make the user experience welcoming, friendly and easy; it's probably the best bathroom experience in Boston." 
– Rich Frank, director of business development, Artists for Humanity
Custom Hand Dryer Covers
Excel Dryer offers the most cover finishes and options in the industry, using exclusive digital image technology to create custom hand dryers with graphics, colors, logos, or a sustainability message to enhance commercial restroom designs. This new technology has been adopted by celebrated brands and organizations, including Dunkin', Starbucks, Coca-Cola, the New England Patriots, and many more. The zinc die-cast models can also be painted with a custom color powder coat with many RAL paint colors to choose from. Stainless Steel covers can be customized with any hi-res digital image.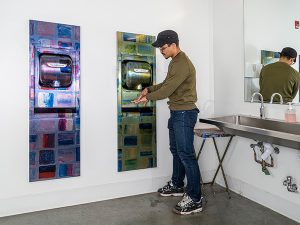 And custom designs aren't limited to—well, to anything! We recently partnered with Artists for Humanity, whose work is focused on providing teens the keys to self-sufficiency through paid employment in art and design. When Excel Dryer learned about the amazing work AFH was doing, we saw a unique opportunity to collaborate with the organization's teen artists to create custom covers for the XLERATOR® Hand Dryers and XChanger® Combo Kits in the facility's restrooms. While we've designed custom XLERATOR covers for countless organizations, the AFH project marks the first time this customization has involved original artwork. By putting high-resolution artwork files into a template and using digital image technology, our experts were able to transform the hand dryers into an extension of the masterpieces exhibited throughout the rest of the AFH building. 
ThinAir® Hand Dryer: ADA Compliance Customized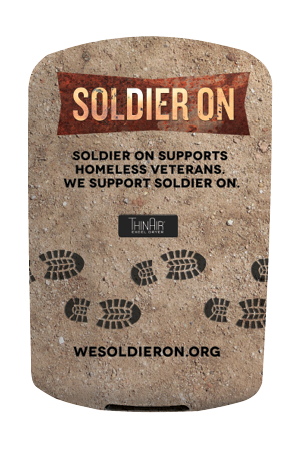 Sleek, space-saving and hygienic, our ThinAir® Hand Dryer is the perfect upgrade from paper towels or an outdated electric hand dryer to a surface-mounted ADA-compliant hand dryer system. The ThinAir boasts plenty of attributes to enhance your company's restrooms:
Meets 4-inch ADA protrusion guidelines when surface mounted to accommodate all guests

Has a dry time of 14 seconds*

Available with

Electrostatic HEPA Filtration

to remove 99.999% of viruses from the airstream

Provides a 95% cost savings when compared to paper towels 

Uses

80% less energy

than conventional hand dryers

Is BuildingGreen Approved and can help your facility qualify for several LEED

®

credits
And just like all our high-speed, energy-efficient commercial hand dryers, ThinAir is fully customizable to your brand identity! All the popular painted cover options that are available for the XLERATOR® Hand Dryer are now available for ThinAir. Stock options for the ThinAir include white, graphite, bone, raven black, and red baron. If you prefer a custom color, from pink to purple, most RAL colors are available with a minimum order of five dryers. You can also customize your ThinAir with your company logo, green message, or any other high-res image to further brand your space.
The D|13 Sink System Featuring the XLERATORsync® 
For businesses seeking a high-end restroom experience, we present the fully customizable D|13 Sink System featuring the XLERATORsync® Hand Dryer. The natural evolution in hygienic and sustainable restroom design, this aesthetically pleasing unit mounts soap dispenser, faucet, and hand dryer together on the basin for a clean, efficient, and intuitive one-stop handwashing experience. 
The Sink System offers designers flexibility in their choice of color, shape, dimensions, and material for the sink basin, countertop, and base cabinet, including elegant options like solid surface quartz and stone. Supplemental elements such as baby changing units, built-in trash receptacles, and custom countertop elevations are also available.  This customizable capability allows you to integrate the unit seamlessly into your branded restroom aesthetic for an elevated experience.
* Dry time and energy use testing performed by SGS International on standard ThinAir Hand Dryers to 0.25g or less of residual moisture, pursuant to the UL Environment Global Product Category Rules (PCR) for Hand Dryers