Big Benefits of Updating Your Public Restroom
It's amazing how attention to detail translates into trust for a brand, a company, or a destination. Companies spend millions of dollars improving the experience of their customers and guests. No detail is too small. Color psychology is used to select the perfect paint color. There are even websites and apps dedicated to ranking public restrooms. Upgrades provide energy savings, improve hygiene, and should complement the design aesthetic used throughout the facility. Public restroom improvements communicate your commitment to being environmentally conscious while improving the bottom line. Consumers respect companies that do their part for the environment while being fiscally responsible.
Energy Savings 
One important step in upgrading your public restroom is to be environmentally sustainable and energy conscious. You can start by installing a hand dryer because they reduce the carbon footprint and are more cost-effective than paper towels.  XLERATOR® reduces the carbon footprint of hand drying by up to 75% when compared to 100% recycled paper towels and traditional hand dryers. Add this to reduced cost in maintaining, restocking and cleaning and customers/clients will clearly know you are committed to environmental sustainability. Want to know how much money you can save over paper towels? Visit Excel Dryer's cost savings calculator.
Improved Hygiene
While the cost-savings and environmental benefits of high-speed, energy-efficient hand dryers are clear, there are many misconceptions about the hygienic effectiveness of different hand-drying methods. Over the years, studies have been published in well-known medical reviews regarding the hygienic superiority of hand dryers. In fact, Laval University in Canada tested multiple brands of commercial paper towels and found high bacterial counts in all six brands that were tested; especially the paper towels made from recycled fibers. They reported that those bacteria could be transferred to hands after washing. In contrast, the XLERATOR and XLERATOReco Hand Dryers are a natural partner to any hands-free restroom design. They also come with a complete line of accessories to customize a hygienic solution for any restroom environment. The HEPA Filtration System and Anti-Microbial Wall Guards put these hand dryers on the cutting edge of public restroom hygiene and efficacy.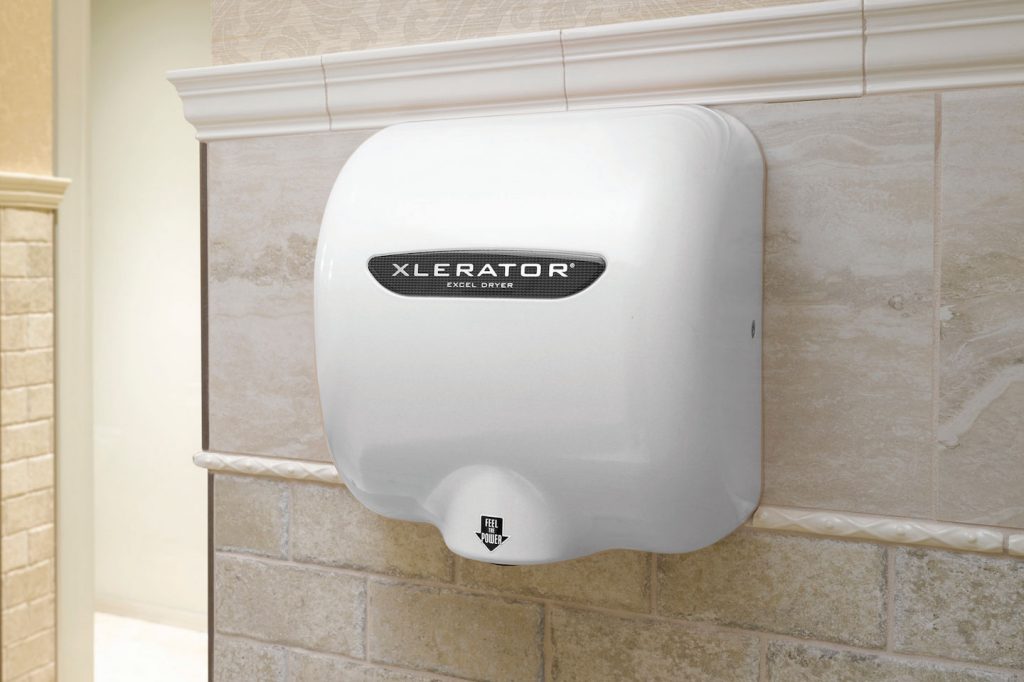 Design Aesthetic
Let's be honest, we judge with our eyes. We notice if places are clean and tidy and we see a lot of value in aesthetically pleasing environments. You spend a fortune on interior designers and architectural advice. Don't let that attention to detail stop with your public restroom. The restroom is an extension of your brand. Did you know that Excel Dryer offers the most cover finishes and options in the industry? They feature Kolorfusion digital image technology and can customize covers with graphics, logos, colors and more. Let your imagination run wild. The zinc die-cast models can be powder coated with DuPont® paint and the stainless steel covers can be customized with digital images. With customizable options like this, your upgraded public restroom will become destination-worthy.
With these restroom updates, your new facilities could attract the right kind of attention and recognition for your brand and your attention to detail. Your commitment to the bottom line, while saving energy could gain you rating points and industry respect. A few updates can save you money and provide a seamless experience for your public restroom patrons.