XLERATE Standards with Excel Dryer's Signature Hand Dryer Products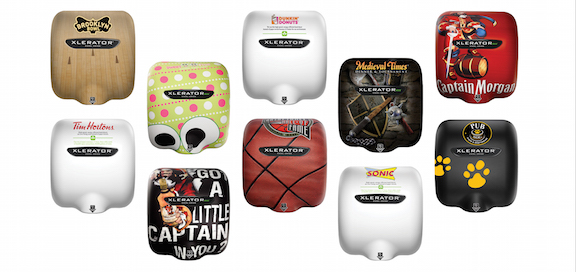 Central Restaurant Products, Proud Distributor of Excel Dryer Commercial Hand Dryer Products
Excel Dryer is pleased to present this guest article by Chase Stanley of Central Restaurant Products, a leading distributor of foodservice equipment and solutions. Find more of Chase's industry insights on Central Restaurant Products' Foodservice Equipment & Restaurant Supply Blog.  
Why Excel Dryer? There's a reason this company's hand dryers are the bestselling in America, its readily recognizable models popping up in restrooms in a variety of venues–restaurants, movie theaters, hospitals, government centers, you name it. So, what's the draw? Why do commercial operations gravitate to this high level of standard?
If you've ever used Excel Dryer's XLERATOR® Hand Dryer (and at this point, who hasn't?), then you're familiar with the signature, powerful gush of air that dries hands in seconds. This stable feat of engineering is unlike any other industrial-grade hand dryer on the market. XLERATOR is 95% more cost-effective than paper towels and cuts energy consumption by 80% over conventional electric hand dryers. Excel Dryer units also come with a five-year warranty and, thanks to innovative engineering solutions, are virtually maintenance-free.
Though all XLERATOR units are characterized by their similar styles of efficiency, each is designed with multiple options, easily aligning with needs specific to each customer and quickly tackling common installation hurdles. For instance, XLERATOR is available in various finishes, like standard white, brushed stainless steel, graphite, or custom designs. Buyers also can choose between two different voltages for a convenient hookup, offering the ability to install multiple units on one circuit. Other enhanced features include adjustable speed and sound control and an externally visible service LED.
Another unique element of this particular product line is the option to select between the original XLERATOR or the XLERATOReco® Hand Dryer. Both models are the same size, offer that same powerful rush of air, are touch-free and available in different voltages, and all the rest of the signature features. Where the XLERATOReco stands apart is the implementation of no heat technology that is establishing greater expectations amongst commercial operations. Using only 500 watts, the eco is "the most energy-efficient, environmentally friendly hand dryer on the planet." It earns this description without sacrificing the quality and performance we've come to expect in our Excel Dryer products; XLERATOReco still dries hands in an impressive 10 seconds (original XLERATOR dry time: a mere 8)*.
A factor that restaurants, in particular, appreciate about these restroom hand dryers is their hygienic benefit. The touch-free, hands-under design deters the spread of germs, while the HEPA Filtration System, an optional feature, removes 99.97% of potentially present bacteria from the air. In the world of food services, cleanliness is one area where there's no room for compromise.
If noise control is a concern for your establishment, Excel also produces an optional noise-reduction nozzle that reduces noise output by 9 decibels. This optional nozzle can be retrofitted onto previously installed XLERATOR units, or can be fitted onto new units at the time of purchase. This accessory complements XLERATOR's standard speed and sound controls, allowing you to tailor volume levels to your environment's needs.
Central Restaurant Products is a proud distributor of Excel Dryer hand dryer products, carrying top XLERATOR models in stock with a wide selection of options. View our full Excel Dryer product line, or call 800.215.9293 to speak with one of our knowledgeable product consultants for expert advice.  
* Dry time and energy use testing performed by SGS International on standard XLERATOR/XLERATOReco Hand Dryers with 0.8″ nozzle to 0.25g or less of residual moisture, pursuant to the UL Environment Global Product Category Rules (PCR) for Hand Dryers.