The Perfect Hand Dryer Machine. How We Build It.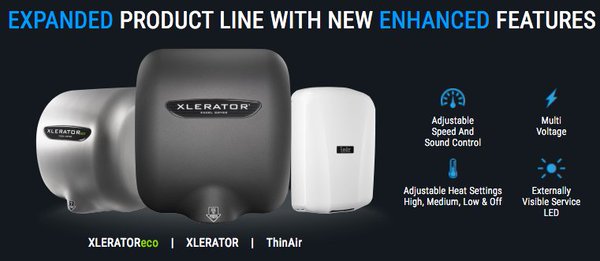 Hand Dryer Machine Excelling Beyond the Competition
The word "perfect" brings to mind a few synonyms: unbeatable, flawless, best, and incomparable.
Let's focus on the last word there. Incomparable does not mean that it cannot be compared to anything else. Incomparable means that others cannot be of the same quality.
That's the case for the XLERATOR® Hand Dryer an automatic hand drying machine. XLERATOR is the original high-speed, energy-efficient hand dryer and changed the hand drying market forever.
It all started to change in 1997 when Excel Dryer came under new ownership. Management realized that in order to stand out, Excel had to create a revolutionary hand drying machine. Prior to the XLERATOR® Hand Dryer's release in 2001, conventional hand drying machines took upwards of 45 seconds to dry a user's' hands.
Fast forward to today? The XLERATOR® Hand Dryer machine takes no more than 8 seconds, and uses 80 percent less energy!
It's well documented that hand drying machines are much more eco-friendly than their paper towel counterparts. Just think of all the paper towels you use on a daily basis after going to the bathroom. And you're just one person!
If that doesn't convince you, maybe the 95 percent cost savings will sway your vote toward electronic hand dryers. Check out our Cost Savings Calculator to see just how much you can save by switching to the XLERATOR® Hand Dryer.
Imagine a hand dryer machine that dries your hands in 8 seconds, yet is still energy efficient. Due to its superior design, that's exactly what the XLERATOR® Hand Dryer is. Users of the XLERATOR can qualify to become LEED certified by the U.S. Green Council Building by earning LEED credits in two categories: EA (Energy & Atmosphere) Prerequisite 2 and EA Credit 1 – Optimize Energy Performance. The XLERATOR is also GreenBuilding listed. As a result, Excel Dryer is a member of the Green Business Bureau, the Green Restaurant Association, the Green Hotels Association and more.
Perhaps the best part of all is that Excel Dryer is fully committed to keeping our manufacturing process completely in the United States. The XLERATOR Hand Dryer holds Made in the USA certification. In fact, it is the only hand drying machine to have that claim!
Okay, so it's settled that the XLERATOR® Hand Dryer machine outperforms the competition. What about aesthetics?
We'll let you browse the five standard finishes to help you decide. If none of those suffice, you can even design your own finish. This feature gives restaurants, hotels, schools and other commercial facilities the ability to add a customized, personal touch to their restrooms. Who says surface-mounted hand drying machines had to be an eyesore?
So, no matter what you refer to the XLERATOR hand drying machine as – whether it's the best, the fastest, the "greenest" or whatever – we've decided on one word that encompasses all of those: Uncomparable!