In Tales of Facility Management, Excel Dryer Plays the Hero
by

Excel Dryer

— 28 Feb, 2017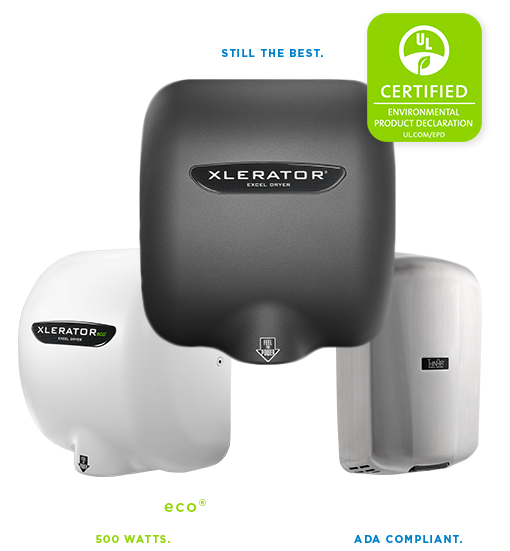 Hand Dryers in Public Restrooms
For students at Sacramento Charter High School, locally known with affection as "Sac High," every trip to the restroom doubles as a hands-on lesson in waste reduction. Two thousand miles east, citizens and employees of Lafayette, Indiana, appreciate notably clean municipal facilities as well as wise use of their tax dollars. Guests at Chicago's legendary Fairmont Hotel enjoy luxuriously green lavatories, while Office Depot shoppers nationwide are thrilled to spend less time drying their hands—and more on perusing the printers.
If you manage a facility that's got a restroom, trust us: we've got a story for that. Blow by blow, Excel Dryer has taken the world's public and corporate restroom environments by storm. Our signature high-efficiency hand dryers provide the solution to a common problem, that giant thorn in every facility manager's side: the collective cost of labor, maintenance and waste disposal related to the use of paper towels.
Pulp nonfiction: true accounts of the last towel
Paper towels cause trouble; our products eradicate it. Paper towels lack advantages; our products supply them. "When you pull the papers out, sometimes 10 come out instead of one; they fall on the floor or someone might think it would be a pretty good joke to clog up the sink and let it overflow or throw them in the toilet. A high school is a high school. We have those things eliminated going the dryer route," said Lawrence Berte, principal at Longmeadow High School in Massachusetts.
Consider the game-changing differences these other real-life customers have experienced since throwing in the towel:
Niles Township High School District 219, Skokie, Illinois. "We were constantly dealing with vandalism, blocked toilets and more," said Joe Tomaselli, Aramark director of operations for this Chicago-area school system, recalling its use of both paper towels and dated hand dryers. "This translated into an extra four hours of clean-up every night, costing us an extra $16,500 per year in restroom maintenance!" With Niles Township's switch to XLERATOR® Hand Dryers, those extra maintenance costs—as well as high energy costs and an estimated $12,500 yearly expense for paper towels alone—were flushed away.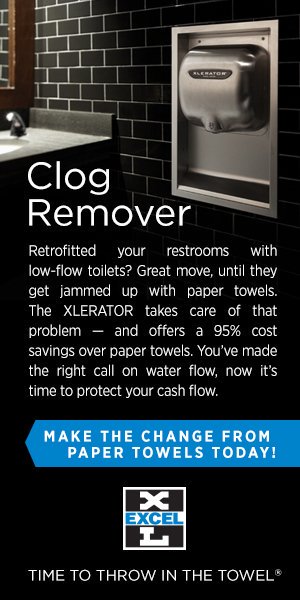 Northwestern Memorial Hospital (NMH), Chicago, Illinois. In planning for a hospital-wide refurbishment campaign, David Stout, Director of Facilities Engineering at NMH, compared the facility's current paper towel use to the installation of 30 XLERATOR Hand Dryers—and calculated an initial annual savings of $20,000. With that revelation, as well as the NMH Infection Control Board's well-researched conclusion that XLERATOR was the most hygienic hand-drying option, the project was underway. "A primary focus had been reducing maintenance needs while improving sanitation in the hospital's hundreds of staff and public washrooms," said Stout, whose staff has installed 120 XLERATORs to date. "The paper towels were getting flushed down the low-flow toilets, causing blockages. The continuous plumbing calls combined with the high levels of restroom maintenance were taking up a considerable amount of time and costly resources. After installing the dryers, our plumbing problems were eliminated and our bathrooms were cleaner. We look at this product like it was tailor made for us," he said.
The Volpe Center, Boston, Massachusetts. This research division of the U.S. Department of Transportation faced one tall executive order in 2009, when President Obama called for all federal agencies to improve their environmental performance. A detailed audit of Volpe's sprawling facility, built in 1970, provided clear direction. "[Our] largest single waste stream was discarded restroom paper towels, so it seemed like a good place to start," said Sustainability Manager Adam Klauber, who soon spearheaded installation of 68 XLERATOR Hand Dryers throughout the facility's restrooms. The project proved an immediate cost saver and a giant leap toward the agency's goal of LEED® certification. As Klauber noted: "It's a way to demonstrate that an old building can be efficient and environmentally high performing."
Numerically speaking, these stories of satisfaction represent but a drop in the bucket; countless organizations from virtually every industry out there have similar tales to tell. Learn more and to discover your own potential savings with our exclusive online savings calculator.
As unique as each Excel Dryer narrative is, the ending is always the same…significant savings! Learn how we can help your facility live hygienically ever after.
Facility management & maintenance professionals can find Excel Dryer at these 2017 industry-related events: