Addressing Common Hygiene Challenges in the Food Industry
Maintaining a culture that promotes hygienic behavior is important for every industry, but none more so than food processing and food service. Even minor lapses in protocol can pose serious health risks or lead to production shutdowns. Now more than ever, amid the ongoing COVID-19 pandemic, food production facilities and restaurants must adapt to create solutions for the most common hygiene challenges. In this blog, we examine these challenges and explain why our high-speed, energy-efficient hand dryers are the most viable solution.
What Do Food Production Managers Have to Say?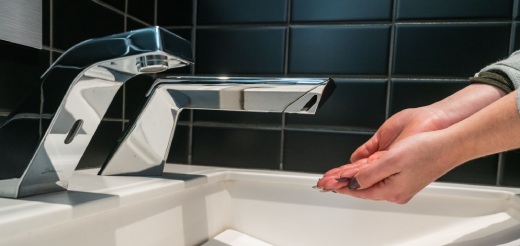 It's a common juggling act for production managers: balancing hygienic protocols against the need for productivity. In a new survey on Food Industry Executive, more than 80% of food production managers report experiencing reduced production due to noncompliance of established hygiene protocols. The survey also found:
54% said it's hard to motivate workers to comply with food safety and hygiene protocols
96% said hygiene processes must comply with standards, while also being as efficient as possible
97% said having easy-to-maintain and well-stocked hygiene products is critical for increasing hygiene compliance
95% said efficiency can be reduced through a lack of available supplies at the point of use
Let's focus on those last two bullet points concerning the visibility and accessibility of hygienic materials. When it comes to hand hygiene, paper towels are the primary alternative to hand dryers. They may be effective at drying hands, but they are not without significant drawbacks. What happens when the paper towels run out before an employee can restock them? Workers on the production line have to decide between abandoning their post to restock or not washing and drying their hands. While restocking is the clear choice, neither option is ideal.
Reduce Maintenance with Excel Dryer
XLERATOR® Hand Dryers from Excel Dryer represent a 95% cost savings when compared to paper towels by reducing the need for labor and maintenance while eliminating waste. In food production facilities, this translates to workers no longer having to worry about running out of—and subsequently having to refill—hygienic materials. In restaurant environments, it means maintenance crews spend less time cleaning up after messy patrons, as paper towels won't be strewn all over the counters or shoved in the toilets when there are XLERATORs at work.
Trusted in Restaurant Environments
With sixteen successful restaurant brands—including high-end German, American and Asian cuisine—the Bean Restaurant Group understands the benefits of hand dryers perfectly. The associated savings allows their staff to focus time and resources on the dining room and the kitchen, leading to an improved product and experience. Are you interested in learning more about the efficiency and hygiene of our high-speed, energy-efficient hand dryers? You can reach out to us at any time to discover why they'd be a perfect fit for your facility.