XLERATOR Participates in the 2015 BOMA International's Conference
by

Excel Dryer

— 7 Jul, 2015
Energy Efficient Hand Dryers at BOMA
Excel Dryer, Inc., manufacturer of the high-speed, energy-efficient XLERATOR hand dryer, participated in the Building Owners and Managers Association (BOMA) International's Medical Office Buildings and Healthcare Facilities conference held April 29-May 1. The conference, presented at the Global Center for Health Innovation in Cleveland, Ohio, brought together more than one thousand leaders in healthcare real estate to discuss the latest issues and trends shaping their industry.
Excel Dryer, Inc. was a natural fit at this year's conference where those attending shared similar concerns: efficiency, efficacy, and the bottom line. We know first hand how much the bottom line really does matter. For example, Northwestern Memorial Hospital came to Excel wanting a hygienic, cost-effective, environmentally friendly drying solution for its facilities. To date, NMH has over 120 dryers installed at their main campus. At first, NMH only installed 30 XLERATOR high-speed dryers and they saw a significant annual savings of over $20,000! On top of that, NMH reported that plumbing issues eliminated and their bathrooms were cleaner. With the XLERATOR® hand dryer drying hands 3 times faster, using 80 percent less energy than conventional hand dryers and saving significant budget dollars, Northwestern Memorial Hospital found the XLERATOR to be a perfect match.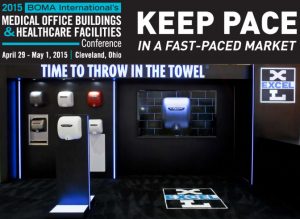 "Excel Dryer Inc. is excited to partner with commercial property owners and managers to offer hand-drying solutions that save time and money while increasing property values," said Excel Dryer Vice President of Marketing, William Gagnon.  "As a leader in the industry, XLERATOR dryers help facility managers save thousands of dollars annually by eliminating the need for paper towel dispensers and their maintenance. It is the first-hand dryer to achieve GreenSpec Listing and helps facilities qualify for 92 LEED credits and prerequisites."
Founded in 1907, BOMA represents owners and managers of all commercial property types and works to advance the entire commercial property industry by providing primary source information, standards, research, advocacy, and networking for its members. These members include building owners, managers, developers, leasing professionals, corporate facility managers, asset managers, and the providers of the products and services needed to operate commercial properties.