XLERATOR Helps Major Venues Put Paper Towels in the Past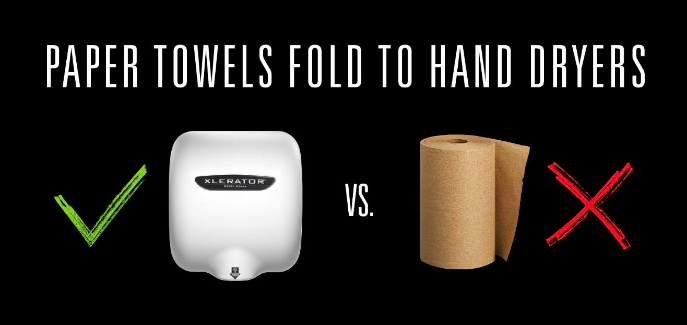 Major Venues Clean Up By Installing Energy Efficient Hand Dryers
NYC's Grand Central Terminal (GCT) issued them a one-way ticket out of town; the New England Patriots' Gillette Stadium gave them a powerful punt. The "victims" were pesky paper towels, and these two northeastern icons are among countless venues worldwide that have happily eliminated paper—and its costly problems—for good.
In executing a facility-wide upgrade over the last several years, GCT sought out sustainable products that suited its aesthetics and, perhaps most importantly, performed well. The project included the replacement of paper towels and conventional hand dryers with 24 XLERATOR® Hand Dryers from Excel Dryer.
"Paper towels typically end up in the toilets and plugging up sewer systems," said Steve Stroh, who, as assistant deputy director of electrical and mechanical maintenance, oversaw the facility's improvements. "With the XLERATOR, we don't have to worry about paper towels ending up outside the garbage cans or plugging up our sewers. It's eliminated the need for paper towels in our restrooms."
A more modern legend, the Pats' longtime home stadium in Foxboro, Mass., also centered its total redesign around environmental responsibility, reopening as Gillette Stadium in 2002. From the project's inception, designers focused on key areas that would yield environmental benefits and cost savings—making XLERATOR a hands-down perfect fit. Paper towels' environmental impact is a serious concern, one that XLERATOR can remedy; facilities like Gillette Stadium reduce their hand-drying carbon footprint by up to 75 percent by switching to XLERATOR.
"While our primary focus remains on creating the ultimate fan experience, we're continually looking for new areas to make environmental improvements," said Jim Nolan, vice president of operations, Gillette Stadium. "Updating the restrooms with XLERATOR Hand Dryers represents another large step in reducing our carbon footprint."
Further, for any venue that draws the kind of traffic a five-time Super Bowl champion does, a permanent farewell to paper towel waste is a serious win.
"Not having to pick up excess paper towels, restock towel dispensers, or pay for the removal of such waste, the stadium will save thousands of dollars in operating expenses," Nolan said.  
In the great debate of hand dryers vs. paper towels, the superior benefits of the former are not limited to historic train stations and major sporting arenas. Facilities of every size and function, representing nearly every industry, are enjoying cleaner, greener restrooms and serious savings (an average 95% over paper towel costs) after switching to XLERATOR.
Learn more about Excel Dryer's world-renowned line of high-speed, energy-efficient hand dryers. As many can attest, you'll have nothing to lose—except, of course, the high-maintenance hassles.