XLERATOR Dryer Receives Made in USA Seal of Certification®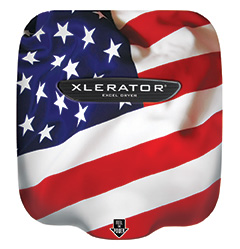 Hand Dryers That Are Made in the USA
Excel Dryer, Inc. is proud to announce the XLERATOR line of high-speed, energy-efficient hand dryers has received the Made in USA Certified® Seal of Certification for the fourth time. This distinction is given by Made in USA Certified, Inc. ®, the leader in independent third-party assurance verification for genuine "Made in USA" products and services.
XLERATOR is the only hand dryer that is Made in USA Certified®. To earn this distinction, Made in USA Certified, Inc. ® performed an audit to verify the supply chain and confirmed that all manufacturing takes place in the US.
Denis Gagnon, president of Excel Dryer, is proud of his American-based company. In an interview with NPR's All Things Considered, host Robert Siegel asked if moving his operation overseas to save money might be a future possibility. "[It will] never happen on my watch. I've expanded this facility twice; I have no intention of ever relocating the manufacturing offshore," he says. "We'll be smart enough to make it here in the United States."
The highly efficient XLERATOR hand dryer is an American-made product that has revolutionized the hand drying industry since introduced to the market. Compared to conventional hand dryers, not only does it dry hands faster (10-15 seconds versus 30-45 seconds using conventional dryers), it also uses 80% less energy. When matched up against paper towels, the XLERATOR hand dryer is the environment's most friendly choice and provides 95% cost savings. The Made in USA certification helps ensure that the company is providing skilled US jobs and is positively impacting the domestic economy.
Established in 2008, Made in USA Certified® is the nation's leading third-party independent certification source for USA Country of Origin claims. In addition to being Made in USA Certified®, the XLERATOR was first to be GreenSpec® listed and helps facilities qualify for several LEED® credits.
For more information on Made in USA Certified, visit www.usa-c.com.