Team USA Part Three: Keeping Manufacturing State Side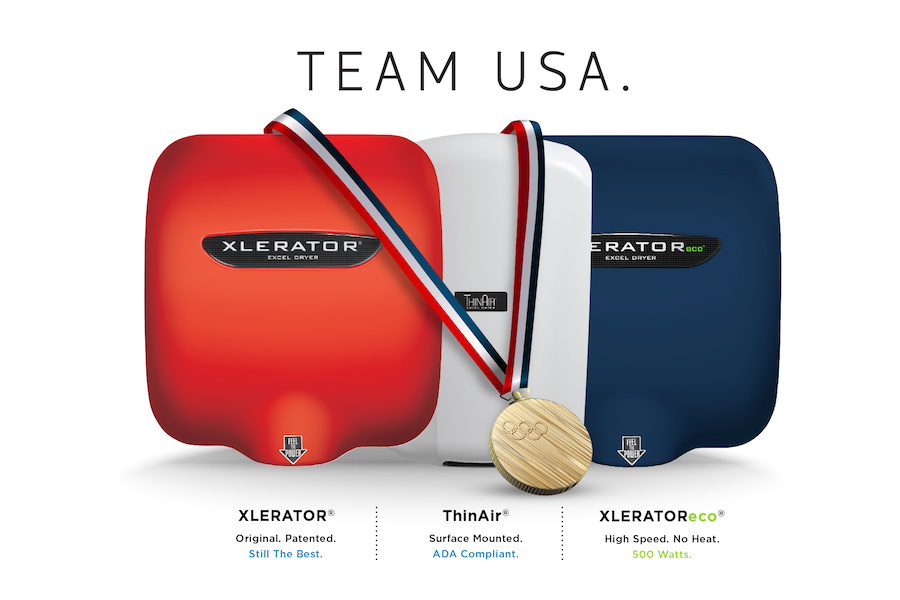 Hand Dryer Manufacturer Keeping It State Side
Manufacturing is not only an important economic driver on the local and state levels, it is also a generator of innovation, product development and employment.
However, the hand dryer market, like so many others, is flooded with knockoff products and manufacturers making unsupported claims. Architects and specifiers may approve 'or equal' products that are not true equivalents and are not as reliable.
To help combat the issue, Excel Dryer initiated the first-ever global Product Category Rule (also known as a PCR), which was created for the hand dryer industry and published by UL Environment (a business division of Underwriters' Laboratories). A PCR is a set of rules, requirements and guidelines following internationally established standards that make it easier to consistently evaluate products' environmental impacts.
"If we say something, we can back it up," said Excel Dryer President, Denis Gagnon. "I'm proud to be an American manufacturer of quality products people enjoy using and can depend on."
Standardized evaluation guidelines and reporting allow for the specifying community and buyers to conduct a more 'apples-to-apples' comparison of hand dryers, and ultimately make a more informed decision based on credible, third-party testing. Now, with the global hand dryer PCR, all hand dryer manufacturers are required to test for data such as dry times and energy use in the exact same way, creating a new age of transparency. 
Excel Dryer was the first to publish PCR test results: the original, patented, high-speed, energy-efficient XLERATOR Hand Dryer recorded an 8 second* dry time and 3.7 Wh* of energy per use while the XLERATOReco Hand Dryer recorded 10 seconds*, 1.7 Wh*, respectively.
"The publication of the first-ever global PCR allows companies to create EPDs which help people compare hand dryers accurately to make a better decision. We make the best hand dryers in the industry and the PCR proves it," Gagnon stated.
Tell us in the comments section why you prefer American Made products and follow us on social media to share with your followers about the importance of supporting Team USA. Call (888) 998-7704 or visit exceldryer.com
*Dry time and energy use testing performed by SGS International on standard XLERATOR/XLERATOReco Hand Dryers with 0.8″ nozzle to 0.25g or less of residual moisture, pursuant to the UL Environment Global Product Category Rules (PCR) for Hand Dryers.