Shoptalk: XLERATOR Makes for Memorable Retail Restrooms
by

Excel Dryer

— 16 Oct, 2017

How Hand Dryers Can Clean Up Your Restrooms
Visit the page for Speedway #9616 (Vandalia, Ohio) on the search-and-discover site Foursquare, and you'll find but one comment in the "tip and review" section:
Speedway has inspired in me a deep respect for the XLERATOR hand dryer.
It's a great comment. We always appreciate a product shout-out, of course, and we love a little sardonic wit. But our favorite thing about this page's sole comment, this one individual's take-home reflection on stopping at a Midwestern gas station/convenience store, is the global truth it conveys: For better or for worse, your patrons will remember the restroom.
If anything has the power to undermine quality merchandise, competitive prices and even great customer service, it's a negative impression of the store itself. Lack of cleanliness (huge) or inconvenient design can send a potential lifetime customer running for that other place across town. The restroom may well be a store's single most vulnerable area in this regard—and the original, patented, high-speed, energy-efficient XLERATOR® bathroom Hand Dryer is arguably the single best method of prevention.
Blown away: 750,000 visitors per day, 24 XLERATOR Hand Dryers, 0 paper towels
Steve Stroh's first XLERATOR experience, at a rest stop during the course of a fishing trip, impelled him to learn more about this notably effective technology for his own workplace: New York City's Grand Central Terminal.
"I remember thinking, 'Those jet dryers really worked,'" recalled Stroh, then Assistant Deputy Director of Electrical/Mechanical at the iconic American landmark. "They were heavy duty. We thought if they could hold up to the abuse of a public rest area, they would be a great option for Grand Central."
Beyond its place as the world's busiest train station, Grand Central Terminal houses 68 shops and 35 restaurants. In fact, of the sprawling facility's estimated 750,000 daily visitors, roughly 200,000 are there to dine or shop.
"In the past, all the bathrooms [at Grand Central] had paper towels," Stroh said of the high-traffic retail hub. "They get thrown on the floor, or they get thrown in the toilet, the toilets get plugged, and they overflow and then we have to clean it up."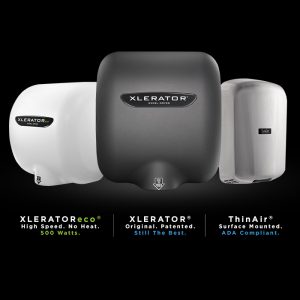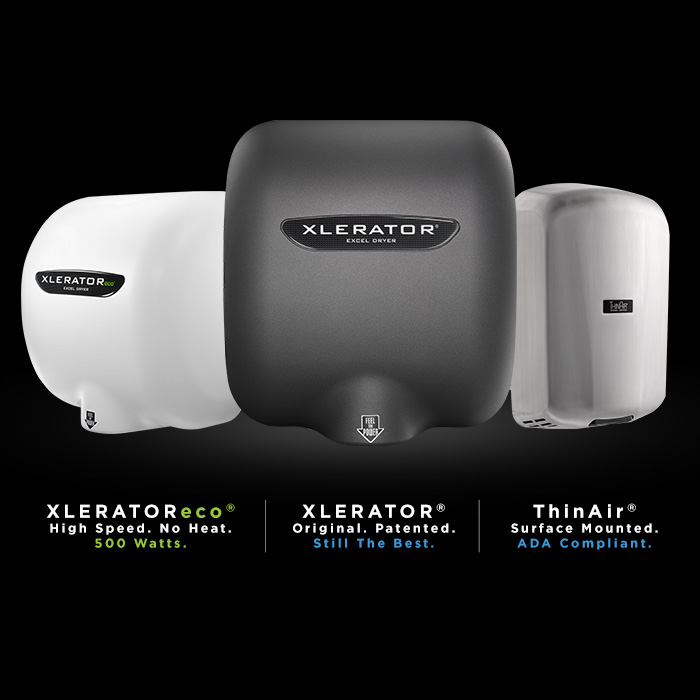 Since the installation of 24 XLERATOR Hand Dryers, Grand Central's visitors enjoy high-speed reliability and high-end luxury in a clean, green restroom environment. In fact, according to Stroh, "the restrooms in Grand Central Terminal are the best in New York City."
Though eliminating paper is key, retailers must beware the other pitfall: settling for a subpar product.
"We tried a different brand of dryer in a few store locations," said Jeffrey Rosenholtz, who helped lead major facility improvements as Senior Manager of Capital Projects for Office Depot. "Unfortunately, the product was not acceptable to our customers, and we quickly pulled them out."
In their place, the office supply superstore installed XLERATORs, which dry hands three times faster than conventional dryers while using 80% less energy.
"The dryer is very clean looking and complementary to our restroom design," Rosenholtz said. "Feedback from our store managers, as well as the customers, has been outstanding."
Business benefits
Customer satisfaction is the ongoing mission, but cost issues and other corporate concerns can get in the way. Fortunately, XLERATOR is one business decision that works all around.
Switching to XLERATOR not only represents a 95-percent cost saving over paper towels but reduces a facility's hand-drying carbon footprint by up to 75 percent. That means that with a simple toss of the towel, a facility is making one of the most cost-effective and sustainably responsible choices possible. Explore the ROI timeframe and find your cost savings with hand dryers when switching from paper towels. 
What's more—getting back to the primary mission—is that shoppers will take notice. In the words of Ed Costa, Vice President of Construction for Office Depot: "As a retailer, we can continue to sell thousands of 'green' products and services, but if our store locations aren't environmentally sustainable, we're not providing a good model for our customers and doing very little to reduce our own footprint."
Pit stop or warehouse, your retail facility's restrooms will leave an impression; make sure it's the right one. Find your clean, green, customized hand dryer solution today at Excel Dryer—and leave the shopping around to your happy patrons.