Made in USA Hand Dryers and Excel Dryer
by

Excel Dryer

in Featured
— 12 May, 2022
Introduction
A survey carried out by Perception Research Services (PRS) noted that many consumers prefer "Made in the USA" products over lower quality counterparts. 
In fact, when considering similar products manufactured overseas, the average American is willing to pay up to 60 percent more for products made in the USA.
For more than 50 years, Excel Dryer has been manufacturing industry-leading hand dryers, and we're proud of our Made in the USA seal.
What is Made in USA Certified®?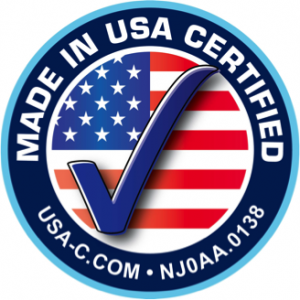 The Made in the USA Certified seal is a country of origin label that indicates product(s) are Made in the USA. 
For a product to become Made in USA Certified, it must meet specific criteria and prove to the Federal Trade Commission (FTC) exactly where the labor, parts, and assembly take place. 
Excel Dryer manufactures all of its XLERATOR® Hand Dryers in East Longmeadow, MA. They employ over 50 people and are the only hand dryer manufacturer to achieve Made in the USA Certification for their product line.
Why is Buying American Made Products Important?
Manufacturing is not only an important economic driver on the federal, state, and local level, but it's also a generator of innovation, product development, and employment.
The state of Massachusetts alone accounts for more than 7,000 manufacturers with more than 250,000 jobs. 
Manufacturers are also pushing innovative boundaries and making groundbreaking products that affect those at the global level too.
The XLERATOReco® Hand Dryer, for example, uses "no heat" technology to dry hands fast, making it the most energy-efficient and environmentally friendly hand dryer on the planet. 
The XLERATOReco is so efficient that it is highly used in Europe, where saving energy has long been a top priority.
The ThinAir® Hand Dryer is just as impressive. It has enhanced features, including adjustable sound, speed and heat controls, multi-voltage options, and an externally visible service LED.
Made in USA Hand Dryers vs the Rest
Like so many others, the hand dryer market is flooded with knockoff products and manufacturers making unsupported claims. 
Architects and specifiers may approve "or equal" products that are not true equivalents and are not as reliable.
To help combat the issue, Excel Dryer initiated the first-ever global Product Category Rule (also known as a PCR), which was created for the hand dryer industry and published by UL Environment (a business division of Underwriters' Laboratories). 
A PCR is a set of rules, requirements, and guidelines following internationally established standards that make it easier to evaluate products' environmental impacts consistently.
Standardized evaluation guidelines and reporting allow buyers to compare hand dryers more "apples to apples" and ultimately make a more informed decision based on credible, third-party testing. 
Now, with the global hand dryer PCR, all hand dryer manufacturers must test for data such as dry times and energy use in the same way, creating a new age of transparency. 
Excel Dryer was the first to publish PCR test results: the original, patented, high-speed, energy-efficient XLERATOR Hand Dryer recorded an 8 second dry time and 3.7 Wh of energy per use while the XLERATOReco Hand Dryer recorded 10 seconds, 1.7 Wh, respectively.
The Durability of Our Hand Dryers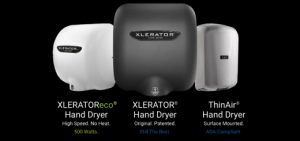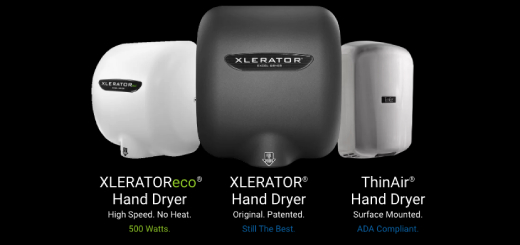 In high-volume industries, durability is key.
Imported, cheaper hand dryers may require a constant unblocking of auto sensors and repair or replacement of heater coils or motors which can become a maintenance nightmare. XLERATOR hand dryers are built to be tough, designed to stand up to high usage, and are virtually maintenance-free. 
Unlike some hand dryer imports, Excel Dryer holds the patent for the motor in all its hand dryers and offers an industry-leading, 7-year warranty on XLERATOR and 5-year warranty on ThinAir.. 
Each dryer's failure rate is less than 1%, making replacing the machines extremely minimal. 
When it comes to Made in USA hand dryers, Excel Dryer leads the way. 
The durability, quality, and cost-savings proven by its top-of-the-line dryers make it the ideal hand drying choice for any commercial restroom.