Go for the Gold Part Two: Quality, Durability and Reliability
High Quality, Durable, Reliable Hand Dryers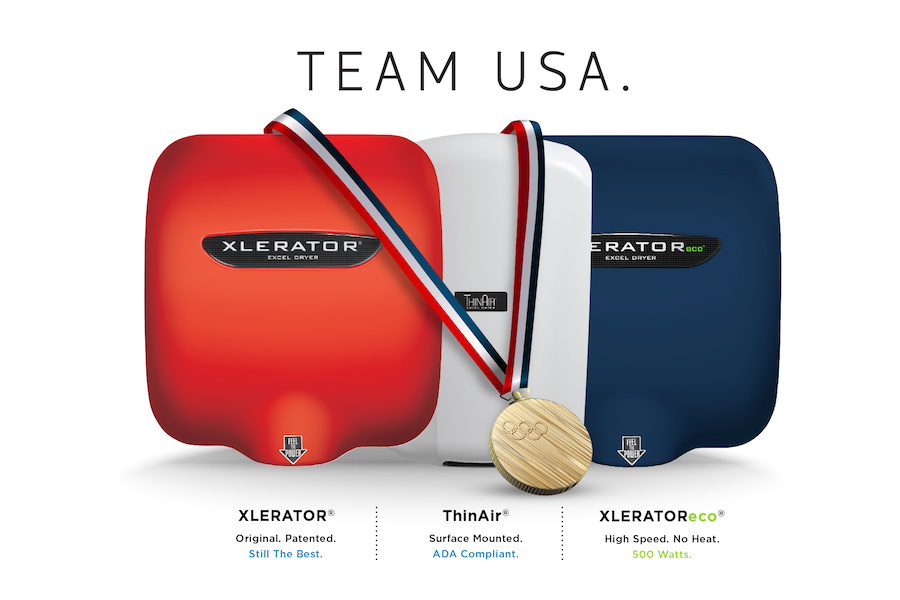 Three of A Kind: Quality, Durability and Reliability
For over 50 years, Excel Dryer has been manufacturing the finest American made hand dryers featuring the XLERATOR® Hand Dryer. Excel Dryer is a family owned and operated company which revolutionized the industry.
When it comes to manufacturing, quality, durability and reliability reign supreme. A survey done by Perception Research Services (PRS) illustrates that many shoppers prefer "Made in the USA" products  and are willing to pay more because they are perceived to be higher quality. In fact, when considering similar products made in the U.S. vs. China, the average American is willing to pay up to 60 percent more for U.S. made products.
However, quality doesn't have to mean expensive. The long-term savings on energy is well worth the initial investment. In fact, Fenway Park, was spending nearly $57,000 each year on paper towels. With the installation of XLERATOR Hand Dryers, the park has not only saved over $83,000 annually, a 97% savings over paper towels, but drastically cut down on labor, maintenance and waste.
In high-volume environments durability is key. Imported, cheaper hand dryers may require a constant unblocking of auto sensors and repair or replacement of heater coils or motors which can become a maintenance nightmare. XLERATOR Hand Dryers are built to be tough, designed to stand up to high-usage and are virtually maintenance free. Unlike some hand dryer imports, Excel Dryer holds the patent for the motor in all its hand dryers and offers an industry-leading, 5-year warranty on all its dryers. Each Dryer's failure rate is less than 1% making the need to replace the machines extremely minimal. 
John Donahue, Building Superintendent, of the Hynes Convention Center in Boston, Mass. is glad to have reliable, fast-working hand dryers for his patrons. "They've been a very dependable and reliable unit, considering how much use they get," Donahue says. "In the more than two years since they were installed, none of the units have failed. Excel Dryer manufactures quality products people enjoy using and can depend on."
The XLERATOR Hand Dryer, the XLERATOReco Hand Dryer and the ThinAir Hand Dryer with their compact size, high volume output and durability make an outstanding choice and reliable investment for many businesses.
See more at exceldryer.com or call 888.961.4219.  Part three in our three-part series will be posting nest week!