Excel Dryer Celebrates Manufacturing Month
It is time to celebrate American manufacturing.
National Manufacturing Day is officially the first Friday in October and is celebrated throughout the month. Manufacturing supports an estimated 17.6 million jobs in the U.S., and more than 12 million Americans are employed directly in manufacturing. Why does this matter?
It matters because by choosing to do business with an American manufacturer you are helping grow our local economy. The term 'Made in America' matters.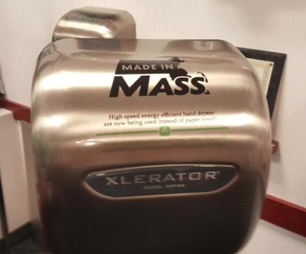 Excel Dryer, Inc. knows this and is proud to be recognized this month. As the manufacturer of the XLERATOR®, the only Made in the USA Certified® hand dryers, the team at Excel Dryer, Inc. understands the importance of domestic manufacturing and how it affects the world around them.  Excel products would not be possible without support from the local community and the hard-working Americans that help create products that are considered the industry standard.
Excel Dryer, Inc. is headquartered in East Longmeadow, Massachusetts. As a leader and innovator in the hand drying industry for over 50 years, it has provided cost-effective dryers for every sector of the economy from local schools to professional sports arenas. Excel Dryer, Inc. revolutionized the industry by introducing the XLERATOR Hand Dryer that dries hands faster compared to conventional dryers (10-15 seconds versus 30-45 seconds) while using 80% less energy.
You don't have to journey far from East Longmeadow, Massachusetts to see the benefits of installing XLERATOR Hand Dryers. Boston Red Sox' Fenway Park installed 100 XLERATOR Hand Dryers in 2013 helping to eliminate over 123 tons of waste and saving 87% in costs versus paper towels. Gillette Stadium, home to the New England Patriots, installed 125 XLERATOR Hand Dryers saving 95% in cost versus paper towels and reducing their carbon footprint by 70%. On a more local level, Longmeadow High School switched from paper towels to XLERATOR Hand Dryers in their newly constructed $82 million dollar state of the art facility.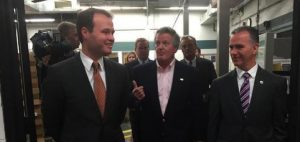 Massachusetts knows where to turn when looking for an environmentally friendly and affordable hand drying solution. To celebrate Manufacturing Month, Massachusetts Senator Eric Lesser, D-Longmeadow, and Rep. Brian Ashe, D-Longmeadow recently toured Excel Dryer, Inc. where they experienced the power of the XLERATOR Hand Dryer. After the visit, Rep. Brian Ashe tweeted: "Hands down the best hand dryers…".
We couldn't agree more, Rep. Ashe. Excel Dryer, Inc. appreciates the local support from the Commonwealth of Massachusetts and is thankful for the recognition from the community during Manufacturing Month.  The term 'Made in America' matters. The team at Excel Dryer, Inc. looks forward to continuing to support the local economy while producing best-in-class dryers for years to come.