Beyond the Bathroom: XLERATOR on a Machine Shop Floor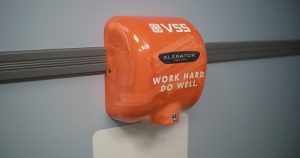 At Excel Dryer, we've long touted the benefits that our line of products can have in restrooms at any facility—but the advantages go far beyond the bathroom. One must look no further than VSS in western Massachusetts, which prides itself on having the cleanest factory floor of its type. In this blog, we explain the pivotal role that XLERATOR® Hand Dryers play in that distinction.
From Humble Beginnings
Now a thriving precision machine shop with more than 120 employees, VSS came from humble beginnings. Starting as a one-man operation in Greenfield, Massachusetts more than 50 years ago, it is now a cutting-edge shop for aerospace and firearm technology. Needless to say, hygiene and efficiency are a necessity for this 50,000-square-foot facility, which is why they've installed XLERATOR Hand Dryers with HEPA filtration in every restroom—and on their shop floor.
Paper Towels Couldn't Cut It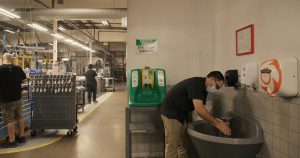 Originally operating inside of an aging building, VSS used paper towels in their restrooms and washing stations. But that all changed when they began a major retrofitting project a little over a decade ago.
"It was just a mess," says Steve Capshaw, CEO of VSS. "With the labor involved in maintaining the bathrooms—and the cost of paper towels—it makes no sense to do it."
So, why the switch? XLERATOR offers a 95% cost savings over paper towels, eliminating their labor, maintenance and waste while creating a more hygienic restroom environment. In fact, Capshaw said that his maintenance department has never had to perform maintenance of any kind on the hand dryers in the 12 years since they were installed.
HEPA Filtration Protected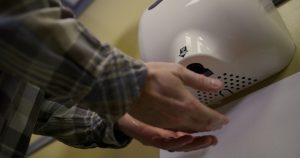 The shop floor at VSS is a picture of cleanliness—everything is pristine and in perfect condition—which makes the XLERATOR an ideal match for the shop. Excel Dryer's HEPA Filtration System is proven to remove 99.999% of viruses from the airstream. In addition to virus filtration, XLERATORs with HEPA eliminate the multiple unnecessary touch points associated with paper towels—as well as the risk of bacteria on used paper towel waste.
"We have HEPA filters in our dryers and our employees really appreciate that technology, particularly during COVID," Capshaw adds.
A Local Solution for a Local Shop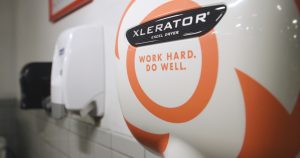 The fact that Excel Dryer manufactures the only hand dryers to be Made in USA Certified is something that goes a long way at VSS. For a product to become Made in USA Certified, it must meet specific criteria and prove to the Federal Trade Commission (FTC) exactly where the labor, parts and assembly take place, which, for Excel Dryer, is right in East Longmeadow, Massachusetts.
"As a U.S.-based manufacturer making advanced products, we appreciate a company like Excel that does the same thing. We're very proud that they're made in the USA, just like us," says Capshaw.
How Can We Help?
If you're looking to retrofit or upgrade your restroom, or even your shop floor, we can help provide a hygienic, cost efficient and long-lasting option to fit your facility's needs. Contact us to learn more.