ADA Compliant Restrooms & Hand Dryer Guidelines: Why It Matters
by

Excel Dryer

in Featured
— 28 Feb, 2022
In today's world, compliance with regulations isn't just a competitive advantage, but a requisite for running a successful business. Investing in an ADA-approved hand dryer solution can be a major step towards ensuring that your business is inclusive of all types of guests. Public facilities and businesses must be designed to accommodate everyone, including people with disabilities. In this blog post, we'll discuss the importance of ADA compliance for restrooms, specifically regarding hand dryers, and how you can take steps to meet these essential requirements.
What is ADA Compliance for Restrooms? 
Every facility or establishment, private or public, must follow the law and make provisions for disabled individuals to use their services. This includes providing accessible spaces, with well-designed toilets, sinks, and hand dryers. In 2010, an update was made to the ADA Standards for Accessible Design, outlining guidelines for constructing new or modifying existing public restrooms to ensure they meet all ADA guidelines.
Meeting ADA Bathroom Requirements: Enhancing Hand Drying Solutions for All
Ensuring ADA compliance in restrooms goes beyond simply replacing paper towel dispensers with hand dryers. It involves careful consideration of various factors to accommodate individuals with diverse needs.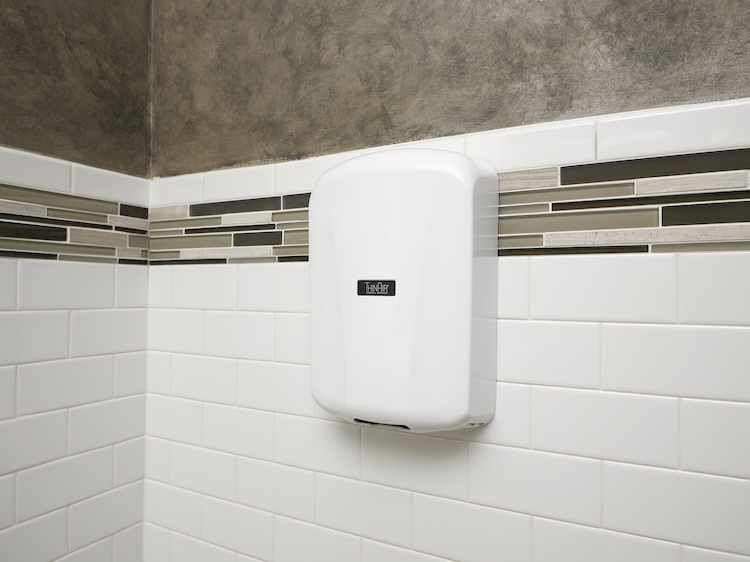 The Height of ADA Hand Dryers
The ADA states that paper towels must be accessible from 15 inches to 48 inches above the ground. They must also allow both forward and side reach for people in wheelchairs. To be more precise, the operable part of the dispenser must be no higher than 48 inches. This could include the handle or lever, a touch-free sensor, and more – it all depends on what type of dispenser is present. The height of ADA hand dryers, therefore, must meet the same guidelines. All buttons and touch-free sensors must fall between a height of 38 inches to 48 inches off the floor. Push buttons must be operable with one hand and should start the hand dryer with a force of no more than five pounds.
Considerations for Left-Handed, Right-Handed, and the Visually Impaired Users
ADA regulations require hand dryers to cater to both right-handed and left-handed users, allowing flexibility for wheelchair approaches in the restroom. Additionally, hand dryers should be visually distinct from surrounding materials, aiding the visually impaired in locating them effortlessly. The protrusion of hand dryers from the wall serves a dual purpose: it allows visually impaired visitors to identify them by touch and prevents potential collisions.
ADA Hand Dryers and Excel Dryer
At Excel Dryer, we take pride in our commitment to ensuring ADA adherence through cutting-edge technology. As the manufacturer of the original, high-speed, and energy-efficient, and now EPD Certified XLERATOR® Hand Dryer, we have revolutionized the industry. Let's explore our range of ADA-compliant hand dryers, designed to meet the needs of all users while facilitating easy compliance with ADA bathroom requirements:
XLERATOR Hand Dryer with ADA Recess Kit and XChanger Combo Kit:

To make it ADA compliant, we developed the first-ever ADA recess kit for a high-speed, energy-efficient hand dryer. This accessory allows any XLERATOR to instantly become an ADA hand dryer, catering to users with diverse needs. Additionally, we introduced the XChanger Combo Kit, enabling smooth retrofitting of paper towel dispensers to the XLERATOR Hand Dryer. This kit offers a seamless switch without causing damage to the existing space or wall, making the transition hassle-free.

ThinAir Hand Dryer

As part of our enhanced line of high-efficiency, EPD Certified hand dryers, we proudly present the ThinAir Hand Dryer. Designed with ADA compliance in mind, ThinAir is a surface-mounted, fast-drying hand dryer that consumes only 950 watts or less. Complying with ADA guidelines for the visually impaired, ThinAir protrudes less than four inches from the wall and meets all ADA requirements when installed at the recommended height of 37 inches above the finished floor (AFF). ThinAir also comes with new enhanced features, including adjustable sound, speed, heat controls, multi-voltage options, and an externally visible service LED. With options for ABS polymer or brushed stainless steel covers and a washable pre-filter, ThinAir ensures longevity and user satisfaction.
The Significance of ADA Hand Dryers: Enhancing Accessibility and Compliance with Excel Dryer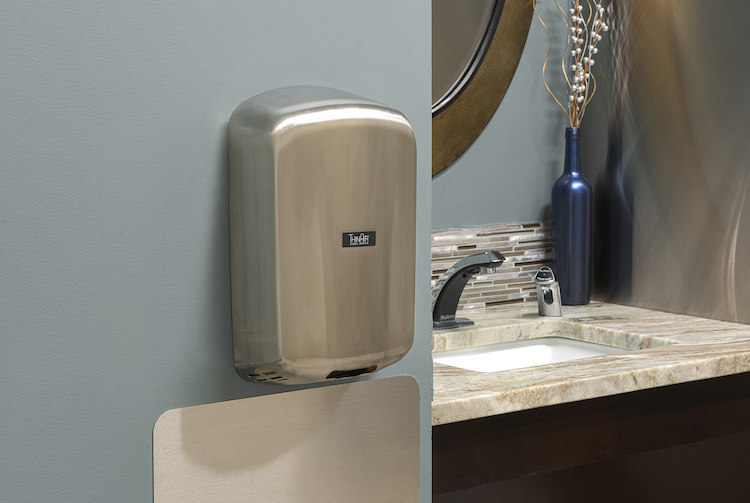 Ensuring accessibility for all individuals, regardless of their physical abilities, is a fundamental aspect of inclusive design. The Americans with Disabilities Act (ADA) of 1990, established in 1991, outlines technical requirements that mandate workplaces, government services, public accommodations, and commercial facilities to be accessible and usable by persons with disabilities. 
Architects, builders, and facilities managers have a critical role in ensuring that their spaces meet the ADA Standards for Accessible Design, and the restroom is a vital area to address. Excel Dryer stands ready to assist with our cutting-edge ADA hand dryers, providing cost-effective, energy-efficient, high-performing solutions supporting your facility's accessibility goals. 
Embrace inclusivity and ADA compliance with Excel Dryer's innovative hand dryer solutions today.