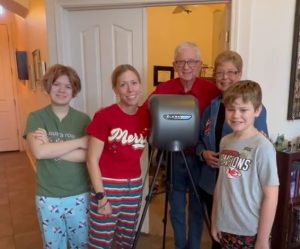 EAST LONGMEADOW, Mass. – Excel Dryer, Inc., manufacturer of the XLERATOR® Hand Dryer, doesn't often have the opportunity to play Santa, but this year, the company made the wish of one of its biggest fans come true.
This was the request the sales team received in November from Kelly Augustine of Phoenix, father of 13-year-old Aiden: "Over the past few years, my son has developed a passion for seeking out hand dryers at every location that we visit. Each time that we find one, we take a video of ourselves using it. Over the course of these adventures, my son has become particularly fond of the XLERATOR hand dryers. So much so, that he has asked for one for Christmas. Since he is autistic, he is very passionate about installing a dryer in his bathroom."
"We know that people across the globe are fans of our products, but Aiden's enthusiasm was particularly touching," said William Gagnon, Executive Vice President and COO, Excel Dryer. "While our hand dryers are built for commercial use and require a dedicated circuit, we were able to send a demo model to Aiden that could be plugged into a standard outlet. We were thrilled to be able to make this young boy's wish come true."
Upon opening his special gift, an XLERATOR Hand Dryer with a graphite finish and its own stand, Aiden smiled and said, "I'm gonna go in my room and test run it." Maybe someday, he'll be engineering his own XLERATOR model!
About Excel Dryer, Inc.
Excel Dryer has been manufacturing and developing hygienic hand drying solutions that are cost effective and sustainable for more than 50 years. The family-owned and -operated company revolutionized the industry with the invention of the XLERATOR® Hand Dryer that set a new standard for performance, reliability and customer satisfaction. Excel Dryer prides itself on offering the best customer service and making touchless, economical and renewable products people can depend on. Available for distribution worldwide, Excel Dryer products can be purchased through an established network of sales representatives who work with distributors globally. Learn more about Excel Dryer at exceldryer.com.