GUARDING AMERICA'S NATURAL RESOURCES
PROBLEM
Paper towels taking up 40% of budget for restroom, labor-intensive restroom maintenance
SOLUTION
XLERATOR Hand Dryers in select Guard facilities from southern California to the northern border with Oregon
RESULTS
95% cost savings over paper towels, reduced maintenance and waste, more hygienic restrooms
XLERATOR® HAND DRYERS HELP KEEP THE NATIONAL GUARD AND OTHER FEDERAL AGENCIES CLEAN, LEAN AND GREEN
Like other facilities and agencies around the world, the federal government has initiated major changes to its sustainable practices aimed at increasing energy efficiency, reducing waste and creating high-performance green buildings.
Energy statutes and regulations have spurred National Guard units across the country to plan and implement programs to help achieve these goals. The task of greening the Guard has largely fallen on Construction Facility Management Officers (CFMOs) and others responsible for facility management.
A FAST, EFFICIENT SOLUTION
In addition to recycling and waste diversion and reduction in fuel use, military and civilian personnel in the Guard have incorporated a number of solutions into their sustainability planning—including solar-powered hot water systems and high-efficiency heating systems.
But that equipment is expensive, has long procurement and installation cycles and won't show immediate net benefits.
That's why many Guard leaders are taking interest in green restroom design and the immediate benefits that come with replacing paper towels and older hand dryers with high-speed, energy-efficient XLERATOR Hand Dryers.
GREEN CITIZENSHIP
The XLERATOR represents a 95% cost savings when compared to paper towels, eliminating their labor, maintenance and waste. It is the only hand dryer in the industry with a dry time of 8 seconds* — tested to guidelines from the Global Hand Dryer PCR published by UL Environment — and it uses 80 percent less energy than conventional hand dryers. The XLERATOR is also the only hand dryer to be Made In USA Certified®, the first hand dryer to be BuildingGreen Approved and helps facilities qualify for the most LEED credits of any hand dryer.
As you'll see below, in testimonials from Guard units across the country, the XLERATOR is doing its patriotic duty by helping the federal government save money, increase hygiene and cleanliness, reduce carbon footprint and operate more efficiently.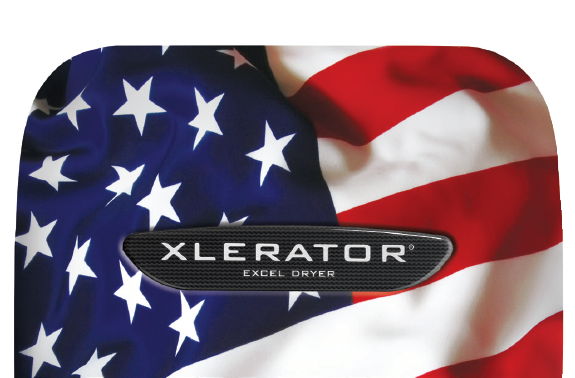 "We found the dryers to be an easy install. We can run an electrical line into a restroom pretty easily and it's done in just a matter of hours. That's the beauty of immediately eliminating paper towels."
MAJOR CRAIG SANDMAN,
Facilities Maintenance Manager, Sacramento, CA
COLORADO NATIONAL GUARD
PROBLEM
High traffic with 200 reservists using restrooms, high paper towel costs, solid waste reduction program goals
SOLUTION
XLERATOR Hand Dryers in three buildings at National Guard headquarters in Centennial
RESULTS
95% cost savings over paper towels, conservation of resources and meeting of solid waste reduction goals
---
"The National Guard is America's representative around the world. Being green is critically important—it's part of our global mission. This project has been a success and we will be putting dryers in all of our other buildings."

RETIRED COL. DEBORAH ROBERTS,
Former Construction and Facilities Management Officer, Centennial, CO
---
VERMONT NATIONAL GUARD
PROBLEM
High paper towel costs, disposal fees, energy costs; need for more sustainable restroom solution
SOLUTION
Replace old wall-mounted hand dryers with XLERATOR Hand Dryers at four Guard facilities across the state
RESULTS
50% reduction in paper use, more hygienic restrooms, lower carbon footprint
---
"We have armories all over the state and had to bring paper towels to those facilities. Now we're not carting paper towels around and using up our natural resources— a better value in terms of energy costs, labor savings and maintenance. This really convinced me that high-speed hand dryers are the standard."
MR. JOHN PATRY,
Military Operations Manager, Colchester, VT
---