How Customizing Your Hand Dryers Can Boost Your Branding
by

Excel Dryer

— 21 Apr, 2017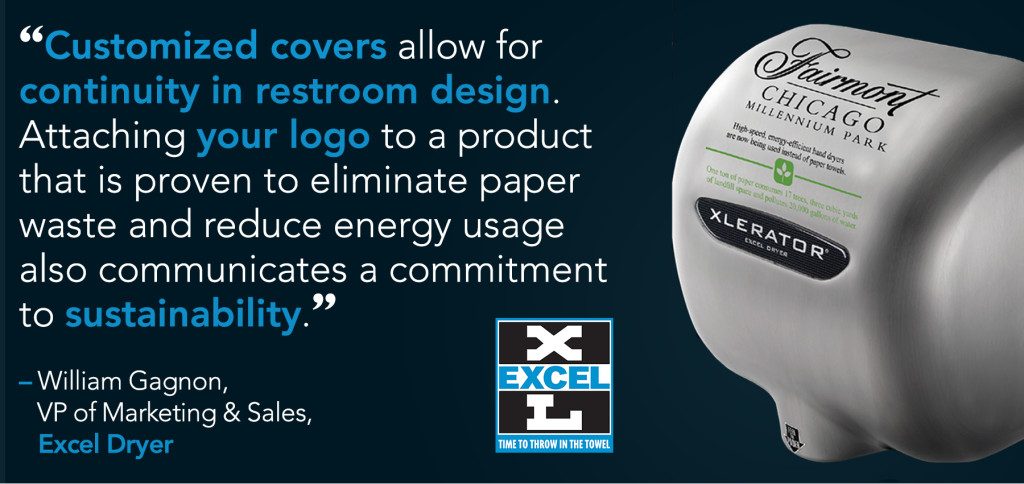 Hand Dryers. Part of the Architecture
Tucked away in a corner or looming at the end of a hidden hallway, a facility's restrooms may carry an illusion of disassociation. Necessary to keep presentable, management might reason, but not who we are.
Just because this notion exists, doesn't mean it rings true. In fact, some of the most successful organizations in the world use their branding universally, adorning walls, floor tiles, and even bathrooms with their logo or brand colors.
Regardless of their external visibility,  restrooms can be a brilliant way to reinforce branding throughout a visitors entire experience. The best ones seamlessly represent the style, feel theme, identity and even the values of the establishment itself. The commercial restroom is full of opportunities to customize and impress, and incorporating unique design touches like a customized hand dryer can be one of the most memorable of all.  
Blending In While Standing Out
Architects and designers are, in essence, visionaries. Their ultimate success depends on products that will support their broader design goals, blending in with the style, but also commanding attention. Our XLERATOR is often lauded for its subtle beauty — clean lines, quiet fan, and modern style — but, there are numerous ways to enhance the design and make it truly your own. From selecting the appropriate model for your restroom style and usage to customizing the exterior to match the personality you hope to convey, the opportunities are vast.
Customize Where It Counts
What's on the inside of your commercial hand dryer matters. Take into consideration what matters most to you. Are you in need of a whisper-quiet hand dryer? Are variable heat settings more important? Or is an environmentally friendly hand dryer crucial to the design? Evaluate these key customization areas when selecting a hand dryer:
Adjustable speed and sound

Adjustable heat settings – high, medium, low and off

An externally visible service LED – for streamlining maintenance

Multi-voltage options – 110V-120V or 208V-277V in 50 or 60 hertz
At Excel Dryer, we offer all of these customization options and then some, while also providing one of the leading "green" hand dryers on the market. In fact, the USGBC, U.S. Green Building Council, the organization behind LEED® certification, chose XLERATOR for the restrooms at its Washington, DC, headquarters.
Hand Dryers that Look the Part
With XLERATOR, a facility can go sustainably green while embracing petal pink—or whatever its signature hue may be. Through specified colors, patterns, visuals, logos and even printed messaging, Excel Dryer's custom digital imaging technology gives businesses a unique opportunity: to convey all that they are on the surface of a single energy-efficient appliance. For a subtler thematic accent, covers are available in a range of durable materials, from sleek traditional white to textured graphite.
Complete the Design
When Fairmont Chicago, Millennium Park, embarked on a large-scale plan for environmentally friendly modernization, they sought products that were high-performing, sustainable and aesthetically suited for a site of legendary grandeur. In the restroom realm, one solution proved the perfect fit. "XLERATOR goes with the look and style of our luxury design," said Colleen Sweitzer, marketing manager and member of the Sustainability Team at Fairmont Chicago. "It flows; it's natural. It doesn't appear to be just thrown on the wall."
Discover the limitless ways the finest American-made hand dryers can help any commercial restroom reflect its establishment with pride. Envision Design's Ken Wilson did—and summarized his discovery simply. "In architecture, performance and design are inextricably linked," he said. "XLERATOR delivers both."